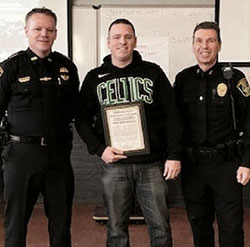 This month's Beyond The Call Of Duty Award, presented to Officer Matt Khoury, is based on a recommendation from Officer Anthony Manzelli, and from an in-depth conversation with George Mihos, the owner of Tech Auto Body in Union Square.
On Thursday, December 28, 2017, a man and his young son drove down from Marston Mills intending to buy a car from Tech Auto Body in Union Square. The car was for the man's son, who had worked long hours to save up the $3,000 he was going to use to buy this car. Of course, the money was all cash and in a white envelope. You can guess where this one is going.
Continue reading »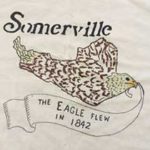 Eagle Feathers #144 – The Minutemen

By Bob (Monty) Doherty
Over the years, Union Square has been referred to as Sand Pit Square, Liberty Pole Square, Milk Row and the road to Newtown or Cambridge. When Somerville was still Charlestown's oldest daughter, the Square was witness to the outbreak of the Revolutionary War and its heroic Minutemen of April 19, 1775.
Continue reading »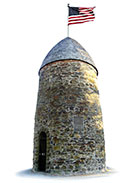 Enough is enough. But have we seen the end of it yet? Only time will tell, but we surely must be near the end of our tethers when it comes to putting up with the tiresome digging out and warming back up.
As if clearing our sidewalks and driveways isn't hard enough, we have had to contend with ridiculously cold, record breaking low temperatures.
Continue reading »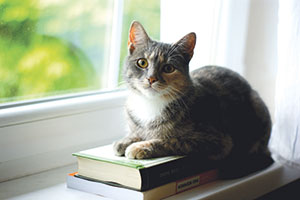 If you are a Somerville resident but cannot come to the Library because of a physical disability, they will come to you. They will bring books, videos, magazines, or printouts, or whatever materials they normally loan out. Materials are loaned on a special-services card for six weeks and can be renewed.
Continue reading »


*
By William Falcetano
It is with regret that we learned of the death of Joseph A. Cohen, a beloved member of the Bagel Bards weekly meet-up. We last heard about Joe when he turned 100 in July; Ibbetson Street Press had just published his second book of poetry by the title A New Path. Let the irony sink in. Yet, despite his advanced age, Joe Cohen managed, somehow, to live up to the title of his book – seeking out new paths – up to the day he was stricken by a fatal stroke on Sunday morning December 10.
Continue reading »


*
"I wrote this poem after visiting Joe Cohen, a poet and photographer who suffered a stroke and died at the age of 100 in December. Joe had just attended a performance of Handel's Messiah and was explaining to a young friend the inner workings of a Beethoven piece the night the stroke hit him. He lingered for quite a long time, clinging to the life he so loved and enjoyed. I knew Joe through the Bagel Bards and worked with Joe briefly in my capacity as poetry writing coach. He attended a one-man performance of my play Every Broom and Bridget—Emily Dickinson and Her Irish Servants and took some fabulous photographs. I will miss him."
Continue reading »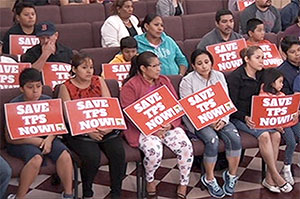 Ending Salvadoran TPS with plans to deport nearly 200,000 upstanding immigrants who work hard, pay taxes, and contribute to the fiber of our communities is more than unjustified, unnecessary, and inhumane; it's also reckless and irresponsible. On the heels of the decisions to also end TPS for Nicaraguans and Haitians, this is part of the administration's continuum of cruelty.
Continue reading »