By Gabriela C. Martinez
The groundbreaking ceremony for the construction Symphony Park was held last Thursday on October 2. The new park, which will be located between Florence and Pearl Streets in East Somerville, is part of SomerVision's long-term goal of creating 125 acres of open space.

Continue reading »
By Donald Norton
A ribbon cutting ceremony took place dedicating the long awaited underpass bridge connecting Ten Hills & Assembly Square on Monday afternoon, October 6.
This unique underpass bridge was built with over $1M given by First Federal Realty along with $250,000 from public monies, an example of how businesses in the private sector work to improve the city when working together.

Continue reading »
Now running through October 18 at the NextDoor Center for the Arts located at 40 Cross Street in Winchester, Somerville's own David Lebahn is the producer for the play Marry Me A Little, a delightful musical revue featuring a selection of previously removed songs from the works of Stephen Sondheim including: Company, Follies, A Funny Thing Happened On The Way To The Forum, and Saturday Night. Two young New Yorkers (Katie Clark and Taylor Hilliard) spend a Saturday night sharing dreams of love and marriage although they have never met. Directed/Designed by Brian Milauskas with Musical Direction by Bethany Aiken. Performance Dates: Fri. Oct 10, 17 at 8:00 p.m.; Sat. Oct 11, 18 at 8:00 p.m.; Thur. Oct 16 at 7:30 p.m. and Sunday Oct 5 at 2:00 p.m. (with audience talkback). Tickets are $32 General, $25 Sen./Student, $15 Under 18. For more information and to purchase tickets please visit them online at http://www.nextdoortheater.org/ or call the box office at 781-729-6398.
Continue reading »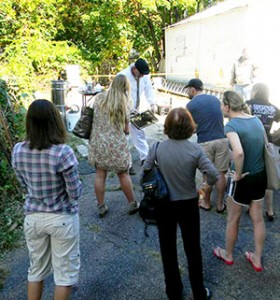 By Jim Clark
Honey Bee Day was held on Saturday, September 27 behind the office of Best Pest Control Services at 63 Elm St., Somerville.
The event was attended by about 50 adults and children who learned some basic honey bee facts from Rod Kreimeyer about how the bees help our urban environment, the way the bees work and live and how important bees are to our survival.

Continue reading »
By Douglas Yu
Art can be explored in many ways: painting, literature, photography, handcrafts and so on. This past weekend, Somerville residents were lucky enough to breathe in these forms of art at Washington Street gallery all at once – they saw, talked and made art through interacting with local artists at the See Art, Talk Art, Be Art exhibition.

Continue reading »
The Somerville Kiwanis Club held its Annual Officers Installation on Sunday, September 28, 2014. New officers for the 2014-2015 administrative year are: Tony Ciccariello, President; Toni Shelzi, President-Elect; Mike McWilliams, Vice President; Pauline D'Aurora, Treasurer and George McLean, Secretary.

Continue reading »

Each week prior to the November election The Somerville Times will present the Statewide ballot questions, along with pro and con arguments, one at a time for examination and further consideration. We continue the series this week with Question 2: Expanding the Beverage Container Deposit Law.
Continue reading »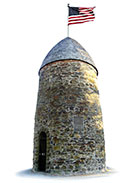 It's so unfortunate that what was once an innocuous and pleasant holiday such as Columbus Day has been politicized, vilified, and become a major controversy across our land.
Not that there aren't some justifiable concerns voiced by various interested parties. It's just that it used to be so much a part of the fabric of celebrating our national identity, not to mention the pride that Italian-Americans have taken for countless generations in the explorer's accredited contributions to our history as a nation.

Continue reading »

This week's guest columnist is Somerville Bagel Bard Michael Todd Steffen. Mike is a widely published poet and critic, and a mainstay on the Boston Area Small Press and Poetry Scene http://dougholder.blogspot.com
What's Next in Poetry? –a discussion about the future of poetry, hosted by the Grolier Poetry Bookshop on Friday September 13, with guests Adam Kirsch, Philip Nikolayev, and Marjorie Perloff.

Somerville Bagel Bard Krikor Hohannesian is our feature this week. He wrote the LYRICAL: "The poem was written with the intent to contrast the Church Street of 1970 with what it is today as a sort of social commentary. As some of us "elders" remember the Chez Dreyfus was a somewhat upscale French restaurant with a separate bar room area. A Runyonesque group of characters, myself included, came to hang out at the bar on Friday afternoons – one would be hard-pressed to create a more disparate group of characters. The conversations were loud, raucous, lively and reflective of the socio-political sentiments of the times. The Chez, is of course, long gone and, as the end of the poem depicts, the scene on the Church Street of today is in stark contrast other than the Christian Science Reading Room still being there!"