By Rebecca Danvers
The Somerville Council on Aging has announced the newest member to their LGBT Advisory Board, Courtney O'Keefe. The former Ward 5 Alderman has been an active community member and joined the Advisory Board after attending her first meeting this past Monday night. The SCOA's LGBT Advisory Board meets the second Monday of each month at the Holland Street Center. "We are looking for new members, especially representation from the gay community. The women definitely outnumber the men," said Maureen Bastardi, Outreach Worker and Liaison to the LGBT Advisory Board.

By Joseph A. Curtatone
(The opinions and views expressed in the commentaries of The Somerville Times belong solely to the authors of those commentaries and do not reflect the views or opinions of The Somerville Times, its staff or publishers)
I am a statistic. I am one of many Somerville residents who face a higher risk for cardiovascular disease because of the car-centric planning that began reshaping our cities in the mid-20th century. We stopped planning for people and started planning for cars, resulting in the construction of I-93 and, near my childhood home on Prospect Hill, McGrath Highway. Our community eventually fought back and fortunately stopped the construction of the proposed I-695 Inner Belt Expressway—but it was too late to stop the consequences of those earlier poor decisions. More cars began traveling through our community. The traffic jams did not go away. And we saw higher rates of heart disease, asthma and other ailments in people living in the shadows of the highways. We know better now. We're expanding public transit, and we're   making it easier and safer to walk and bike in Somerville. That said, I-93 is not going away, and though McGrath will eventually be lowered to become a ground-level boulevard, the cars will still cut through our neighborhoods. Fortunately, a group of dedicated people, including city officials, are working on solutions to protect our residents.

Continue reading »
By Douglas Yu
Over 100 small business owners from all over Somerville met in the Davis Square Theater on the evening of March 10 to share their concerns about the city with Mayor Joseph Curtatone at the annual Business Town Meeting.

Continue reading »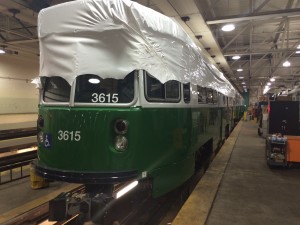 MBTA interim General Manager Frank DePaola today announced that Commuter Rail CharlieCards for monthly pass holders are now available.
Continue reading »
By Jason Andrew Park
In a new report titled Improving Health in Communities Near Highways, researchers and key stakeholders from various institutions highlighted potential solutions to reduce traffic-related air pollution exposure in Boston and Somerville.

Continue reading »
By Jim Clark
Last week's partial collapse of the roof over a girls bathroom at the Brown School sent chills through the hearts and minds of parents whose children narrowly missed being seriously injured, due to the lateness of the hour when the event occurred. The collapse took place after hours and nobody was in the building at that time.

Continue reading »
We are saddened by the news that a good guy from Somerville passed away down in Florida. Tom Taylor, who served our city well and in particular the residents of Ward 3 over many years, is now resting in peace. The whole city knew he was going through a lot over these past couple of years, but he was very strong willed and, of course, his lovely Celia was by his side all the time, encouraging him and making him smile, creating more great memories together. The suffering is over and now is a time to celebrate the life he shared with us and all the good things he did. With that said, his wife Celia and his family would like to invite everyone to a "Celebration of Life" on Sunday, April 26 from 4-8 p.m. at the Somerville City Club, across from the Holiday Inn. All are welcomed to share with the Taylor family and friends the many good times and good things Tom did here in his beloved Somerville. Donations of food and beverages are greatly appreciated. There is a Facebook page set up for the "Celebration" (https://www.facebook.com/celia.taylor.505) to let the family know if you're going.
By Rebecca Danvers
On Monday, Union Square Station Associates (US2), Somerville's master developer partner for Union Square's revitalization, announced four local businesses that have been selected to participate in a Technical Assistance Program to help storefront small businesses refine their business approach and take advantage of the new opportunities that will be presented by the community-driven redevelopment and enhancement of Union Square.

Continue reading »
By Haley Houseman
The Irish Film Festival of Boston will be taking over the Somerville Theatre in Davis Square this weekend, Thursday, March 19 through Sunday, March 22, just in time for the St Patrick's Day holiday. Over thirty films will be shown, from family-friendly animation to documentaries, short films, comedies and thrillers.
By Tom Bannister
Scott P. Brown, former senator from Massachusetts, appeared at Tufts University on March 11 as part of the Tisch College Distinguished Speaker Series, which brings leaders from a range of fields and perspectives to campus to discuss pressing public issues.

Continue reading »