— Photos by Claudia Ferro
A fun-loving audience gathered at Chuckie Harris Park Saturday night to celebrate the hilariously bad "Street Fighter" by mocking a screening of the film. Local comedians heckled the movie live, and everyone in the audience was encouraged to join in with them. Free soda, water, and popcorn was provided to cleanse the bad taste left from Jean-Claude Van Damme's acting (graciously donated by Casey's Sports Bar and Grill and Joe's Liquor). A special stand up comedy night followed the movie across the street at Casey's Sports Bar and Grill. Comedians featured at both the movie and show afterward were: James Mullan, Matt Kona, Kayla Avery, Josh Day, Maylin Pavletic, Rick Harrison, Josh Day, Joe Mitchell, Paul Landwehr, and Ben Phelps.

*
In Gretchen Greene's artist statement she writes: " I am a sculptor; and in that work I see all the other things I am, all the other things I have done. As I carve and twist steel, face covered in soot, scraps of golden steel at my feet, I know I'm home."

Continue reading »

The LYRICAL got this letter from poet  Jennifer Freed: "I haven't lived in Somerville for years (if that matters) – I live now with my family just outside of Worcester. But I wrote the following after reading your July 19 issue. I kept wondering why a person might end up spending the time and money to cremate bodies, and then not return the remains to the families. I came up with the following invention. (The voice, by the way, comes from a man I met in Cambridge years ago, when we both volunteered at a shelter)."
Arrests

:


*

Noreen Devereaux, 45, of 103 Marion St., August 4, 9:10 a.m., arrested at home on a charge of assault with a dangerous weapon.

Roneisha Wright, 26, of 15 Rockland St., Roxbury, August 4, 3:09 p.m., arrested at 105 Middlesex Ave. on a warrant charge of larceny over $250.

Continue reading »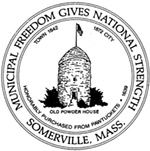 More than $4.5 million is available for affordable housing, open space, outdoor recreation and historic preservation projects in Somerville through the Community Preservation Act (CPA), and Somerville residents, organizations and businesses are invited to submit their project proposals to see if they are eligible for funding. Details on
what CPA funds can be used for
are laid out in the
Community Preservation Plan
available at
http://www.somervillema.gov/cpa
.
Continue reading »
Middlesex District Attorney Marian Ryan announced today that a Somerville teacher has been indicted in connection with an inappropriate relationship she had with a 13-year-old minor.
Alexandra Romanos, 41, of Stoneham, was indicted on charges of aggravated rape of a child (four counts), indecent assault and battery on a child under the age of 14 by a mandated reporter (eight counts) and disseminating material harmful to a minor.

Continue reading »
Southern hospitality spilled out the door and down Chester Street as Redbones Barbecue hosted a neighborhood block party attended by over 450 fans of their finger lickin' great food and supporters of the Somerville Homeless Coalition.
The 13th Annual Pig Pickin' event, to benefit the Homeless Coalition, raised $10,000. "Pig Pickin' is one of our favorite annual events for such a great cause. We're so thrilled for another successful fundraiser for the homeless." – Caryn Whitney, co-owner of Redbones with Robert Gregory.  Redbones donated all the food and staff time, so that 100% of the proceeds would go to the Homeless Coalition.

Continue reading »

Food, music, arts, kids' activities and more bring two of Somerville's largest communities together
Somerville's Haitian and Brazilian communities are coming together for "Haiti and Brazil Hit The 'Ville," a cultural festival on Sunday, Aug. 24 featuring music, dance, food, family-friendly activities and more for the entire community, hosted by the Somerville Arts Council's ArtsUnion Project in partnership with the City of Somerville and SomerVIVA, the City's language liaisons program.

Continue reading »
The CIT/ LIT Job Readiness Program held its graduation on July 24, 2014 from 12:30-2:00 at The Tufts Administration Building inside the SCALE program.
The graduating class consisted of students between the ages of 13-15, who dedicated four-weeks out of their summer to participate in a program that taught them about job readiness and leadership skills.
Throughout the four weeks these students learned how to lead children, the significance of leadership and communication, the meaning of diversity, how to solve conflicts, and employment training.

Continue reading »

Life in the Ville by Jimmy Del Ponte
(The opinions and views expressed in the commentaries of The Somerville Times belong solely to the authors of those commentaries and do not reflect the views or opinions of The Somerville Times, its staff or publishers)
My friend's family used to own The Coronet Lounge/Bar/Restaurant which went on to become Barnaby's and then Redbones. It's located at 55 Chester Street in Davis Square. Locals such as The Skipper, Bobby Doughnuts, Bobby Polaroid, Peter Pizza, Uncle Paul and Magic frequented the joint when it was Barnaby's. Today you can find a vast array of barbecue loving patrons in Redbones. There are 25 draft beers on tap as well. You can still see the Barnaby's lettering on The Redbone's sign. I wonder if The Coronet letters are under that?

Continue reading »