By Jordan Deschenes
The Board of Aldermen passed a Union Square Overlay District zoning at its meeting last Thursday through a vote of nine to one, with one absentee. Mayor Joe Curtatone also signed the master development covenant for the project into effect, binding US2 into an official agreement with the city.
Continue reading »
By State Senator Pat Jehlen
(The opinions and views expressed in the commentaries and letters to the Editor of The Somerville Times belong solely to the authors and do not reflect the views or opinions of The Somerville Times, its staff or publishers)
Last week I joined many other legislators to testify on criminal justice reform. This is my testimony on S834, An Act Reforming Pretrial Process.
Continue reading »
"East Somerville Reunion 17" will be held this year on Saturday, June 24, 7:00 – 11:00 p.m., at the Somerville City Club. Anyone that grew up in East Somerville is invited to attend to meet and greet old friends and reminisce about your park or the corner you grew up on, and so much more. Come and have some fun. Hook up with old friends. Eat, drink, and dance your ass off to a live band. Tickets are $10 each, available at the City Club bar. $15 at the door. This is an adult only event. No one under 21 allowed. We know what it was like back in the day to grow up in a unique part of Somerville. The last reunion had well over 100 attendees. It looks like this year's event may be even more successful. Go to the Facebook page "East Somerville 17" and check in if you will be attending. The reunion is the idea of Dan Rogovich and his committee. They have worked hard to make this a success. A big thank you for having Somerville Pride, in particular East Somerville Pride.
Continue reading »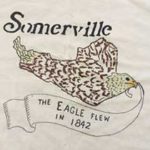 Eagle Feathers #131 –The Monument

By Bob (Monty) Doherty
While stacked high above the city waiting to land at Logan Airport, the pilot gave the travelers a brief history lesson. As the plane angled for a clear view, he pointed out the tallest monument in Boston, the Bunker Hill Memorial. Passengers were overheard saying, Bunker Hill? It looks more like Bunker Bump, but they soon viewed it as Bunker Mountain when informed about its historic saga.
Continue reading »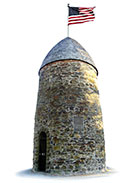 It was a long time coming, and took quite a beating along the way, but at long last – after a torturous course of study and debate – the Union Square Overlay District zoning ordinance now stands before us. And quite a thing to behold it is.
Many different groups and individuals concerned with the planning of the new zoning regulations played a hardscrabble game of tug of war in what became an almost insurmountable battle of wills over the future of Union Square.
Continue reading »
By Rebecca Danvers
On Saturday, June 10, the Boston Red Sox honored cancer patients and survivors with PMC Day at Fenway.
It was an inspiring evening celebrating the Pan-Mass Challenge's fundraising efforts to-date – $547 million for Dana-Farber Cancer Institute since 1980 – and honoring Living Proof riders, including Betsey Bowman of Somerville, all of whom have gone through or are currently undergoing cancer treatment.
Continue reading »


*
Here is an article from the archives about my experience with the late poet Robert Creeley. Shortly before his death I had the pleasure to spend an afternoon with Robert Creeley. The Wilderness House Literary Retreat founded by Steve Glines hosted him, and I happened to be on the board for the retreat. The retreat closed after a few years, but we had quite a few interesting guests like Lois Ames, Afaa Michael Weaver, and a number of others…
Continue reading »