By Jim Clark
Police officers were dispatched to the Stop & Shop store on McGrath Hwy. last Thursday afternoon in response to a reported case of larceny.
Upon arrival, officers found several store employees holding a man down. The officers handcuffed the man, later identified as Ryan Buckles, 30, and escorted him to the store's loss prevention office.

Continue reading »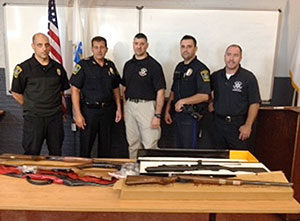 By Douglas Yu
On Saturday, August 16, the City of Somerville Police Department, in conjunction with the Middlesex Sheriff's Department, offered gun buyback in exchange for grocery store gift certificates.
The event did not require identification from the firearms owners, and it successfully collected 15 firearms by the end of the day.

Continue reading »
By Jeremy F. van der Heiden
This is the first installment of a two-part series following our interview with Lieutenant Governor Candidate Mike Lake.
In an interview with The Somerville Times, Mike Lake, who is running on the democratic ballot for Lieutenant Governor of Massachusetts, explained some of the ways in which he believes this office should be handled. As a note, the state has been without a lieutenant governor for more than a year, as the position was vacated when Tim Murray resigned in June of 2013.

Continue reading »
This Friday night, August 22 (rain date August 23), don't forget that the Somerville Boxing Club in association with Mayor Curtatone, the Somerville Recreation Department and USA Boxing will be presenting again this year Fight Night at Dilboy. Doors open at 6 p.m., the first bout is at 7 p.m. Admission cost is $20 for adults, $10 youth. Children under 12 are free with paid adult admission. It's a great time, so mark your calendar. There's been a lot of controversy online between those in favor of and opposed to kids in boxing. We here at The Times support the Somerville Boxing Club. It's a great way for kids to learn. Better than the streets.
Continue reading »

Eagle Feathers #59 – Two Guys, A Girl and iRobot
By Bob (Monty) Doherty
The inspiration and genius of Thomas Edison is still alive and well. The first recording of words capturing sound so that you can hear yesterday's words today was accomplished by Edison. He held over 1,200 American patents in his lifetime.

Continue reading »
By Donald Norton
Recently, the residents of Warren Avenue' Properzi Manor were treated to a great dinner and a meeting with our present District Attorney Marian Ryan, who attended and was introduced by her Somerville campaign coordinator, Ward Three Alderman Bob McWatters. After a few welcoming remarks, Alderman McWatters introduced Marian, who, by the way, is a neighborhood person herself, raised right around the corner. Some of her relatives still live here. Marian spoke to the crowd and asked for their vote on September 9 in the primary, then she posed with Alderman at Large Jack Connolly, Ward Three Alderman Rob McWatters, and the ladies Mary MacDonald and Betty Mederios, who represents the residences at Warren Avenue. Marian is being received throughout Somerville as one of our own and the first women Middlesex District Attorney from Somerville. She's a great lady and everyone appreciated her being there.
 — Photos by Claudia Ferro
Project Star Summer Theatre camps' production of #No Signal took place on Thursday, August 14 at The West Somerville Neighborhood School.

Continue reading »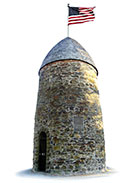 There is a popular saying that everyone has heard: When guns are outlawed only outlaws will have guns. A simplistic view for some, but most of us would agree that there is at least a grain of truth in there.
The city's gun buyback program that took place this weekend may have nothing to do with gun control law, or the removal of dangerous weapons from the hands of criminals, but the community has been provided with a safe means of disposing of unwanted firearms.

Continue reading »
By Donald Norton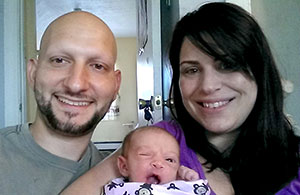 Pictured above is Bobby Potaris and Melissa Gray with their brand new baby girl, Natalia Arie, born recently and who will be taking up residence right here with her parents in Somerville. Now, we spotted bobby already wheeling little Natalia over to Foss Park. Wow, does a few shorts weeks change someone. We think so, and we congratulate them and wish all three the very best.

Continue reading »

One of the first things I noticed while talking with Bridget Galway was the tattoo flowers that tangled their way up the sides of her expressive hands. And then there was the silver hoop earrings with yellow stones—in some ways she is a living piece of installation art. And no wonder… Bridget Galway has always been involved with the arts. She grew up in the Lower East Side of Manhattan, and later moved to Provincetown, Mass. In P-Town her mom owned a sandal shop and was a model for the artist Hans Hoffman, and her father was a writer. As a young artist Galway was intimately involved in the arts scene. Later she founded a free arts center in Holyoke, Mass. There she developed innovative art programs for city youth and others. She has designed book covers for a number of poets including Eating Grief at 3A.M. (Muddy River Books) by yours truly and the upcoming On the Wings of Song (Ibbetson Street Press) by Molly Lynn Watt, a memoir in verse that deals with the Civil Rights Movement of the 60s.

Continue reading »