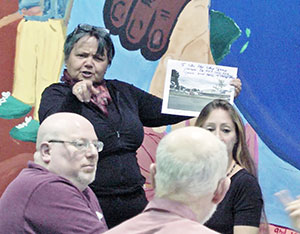 Somerville Neighborhood News
is a community service production of Somerville Community Access Television. If you don't have TV or the time to watch the full episode, you can watch the individual news segments online at
www.somervilleneighborhoodnews.org
. Here are some headlines from the latest newscast.
Continue reading »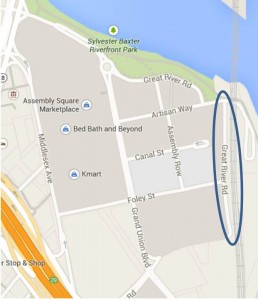 There's a rare opportunity to name a Somerville street and Mayor Joseph Curtatone is seeking your suggestions. Great River Road in Assembly Square runs along Baxter Park and is then interrupted by a bend where it meets Artisan Way. To avoid confusion for residents, businesses, visitors, and emergency personnel, the city has decided to rename the lower portion of the street, which runs parallel to the train tracks (please see  map).
Continue reading »

By Joseph A. Curtatone
(The opinions and views expressed in the commentaries of The Somerville Times belong solely to the authors of those commentaries and do not reflect the views or opinions of The Somerville Times, its staff or publishers)
Fifteen people were victims of domestic violence homicide last year in Massachusetts, and including perpetrators, there were 22 domestic violence deaths last year in our state. So far this year, there have been seven domestic violence homicide victims and 14 deaths in total. Last week, we once again walked through Union Square for our Annual Candlelight Vigil in honor of Domestic Violence Awareness Month. We walked to remember those we have lost to this continuing epidemic, and we walked to stand up together, as a community, and let victims and witnesses alike know—you are not alone. I am glad that as a community we stand up and speak out on domestic violence, but if the events of the past year have taught us anything, it's that we have a long way to go, and a lot to learn.

Continue reading »
— Photos by Claudia Ferro
A Cappella groups converged at the Prospect Hill Monument on Sunday, Oct. 5, for a fun day of song and hanging out in the sun at the 'A Taste of A Cappella' event.
Somerville's own The Eight Tracks performed, along with Fermata Town, Sound Off A Cappella, Boston Accent, and Bostonality.

Continue reading »
By Jim Clark
Police officers were working a paid detail in the vicinity of Beacon St. and Washington St. last week, directing traffic through a construction zone.
At one point a man in a box truck reportedly began yelling at the officers, complaining that he could not make a turn that he wanted to take.

Continue reading »
By Gabriela C. Martinez
The groundbreaking ceremony for the construction Symphony Park was held last Thursday on October 2. The new park, which will be located between Florence and Pearl Streets in East Somerville, is part of SomerVision's long-term goal of creating 125 acres of open space.

Continue reading »
By Donald Norton
A ribbon cutting ceremony took place dedicating the long awaited underpass bridge connecting Ten Hills & Assembly Square on Monday afternoon, October 6.
This unique underpass bridge was built with over $1M given by First Federal Realty along with $250,000 from public monies, an example of how businesses in the private sector work to improve the city when working together.

Continue reading »
Now running through October 18 at the NextDoor Center for the Arts located at 40 Cross Street in Winchester, Somerville's own David Lebahn is the producer for the play Marry Me A Little, a delightful musical revue featuring a selection of previously removed songs from the works of Stephen Sondheim including: Company, Follies, A Funny Thing Happened On The Way To The Forum, and Saturday Night. Two young New Yorkers (Katie Clark and Taylor Hilliard) spend a Saturday night sharing dreams of love and marriage although they have never met. Directed/Designed by Brian Milauskas with Musical Direction by Bethany Aiken. Performance Dates: Fri. Oct 10, 17 at 8:00 p.m.; Sat. Oct 11, 18 at 8:00 p.m.; Thur. Oct 16 at 7:30 p.m. and Sunday Oct 5 at 2:00 p.m. (with audience talkback). Tickets are $32 General, $25 Sen./Student, $15 Under 18. For more information and to purchase tickets please visit them online at http://www.nextdoortheater.org/ or call the box office at 781-729-6398.
Continue reading »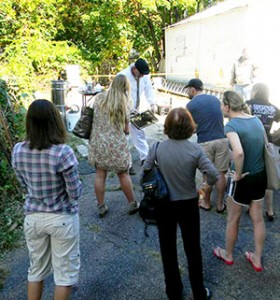 By Jim Clark
Honey Bee Day was held on Saturday, September 27 behind the office of Best Pest Control Services at 63 Elm St., Somerville.
The event was attended by about 50 adults and children who learned some basic honey bee facts from Rod Kreimeyer about how the bees help our urban environment, the way the bees work and live and how important bees are to our survival.

Continue reading »
By Douglas Yu
Art can be explored in many ways: painting, literature, photography, handcrafts and so on. This past weekend, Somerville residents were lucky enough to breathe in these forms of art at Washington Street gallery all at once – they saw, talked and made art through interacting with local artists at the See Art, Talk Art, Be Art exhibition.

Continue reading »