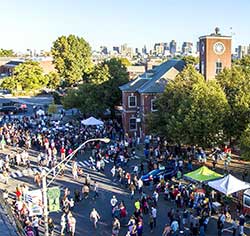 Nov. 20, Nov. 30, and Beyond
The next round of public input on Union Square development will be a two-part public hearing at two Planning Board meetings on Nov. 20 and 30. After multiple years of public process to develop the Union Square Neighborhood Plan as well as Union Square Zoning, the community has set forth the parameters of Union Square development. In keeping with this guidance, this fall at two public meetings, the Master Developer, US2, presented their preliminary plans for the seven master development blocks and a new neighborhood park. Now their final proposed plan, the Union Square Coordinated Development Plan, is before the Planning Board, which will hold a two-part public hearing on the plan on Monday, Nov. 20, and Thursday, Nov. 30.
Continue reading »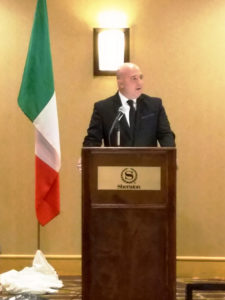 Somerville High School World Language teacher, Gino Colantuono, was named the 2017 Italian Consulate and AATI (American Association of Teachers of Italian) Massachusetts Teacher of the Year by the Massachusetts Foreign Language Association (MaFLA) for excellence in promoting Italian language learning. Mr. Colantuono received his award at the 50th Annual MaFLA Conference on October 28, 2017.
Continue reading »
By JT Thompson
Fatou: the Senegalese hair braider at Aisha, an African hair salon ten minutes' walk from the center of Union Square.
The salon, which is next door to a small computer repair shop on a mostly residential street, is a simple affair. Three chairs by a wall of mirrors. Against the opposite wall, another chair, tilted back for hair washing. Beside it is a large and, to me, bewildering array of hair extension products. The walls are a cheery orange, and there is a large flat screen TV showing the news. A sign in the window says:  Cornrows. Weaves. Threads. Dreads. Twist. Walk-ins welcome.
Continue reading »

By Joseph A. Curtatone
(The opinions and views expressed in the commentaries and letters to the Editor of The Somerville Times belong solely to the authors and do not reflect the views or opinions of The Somerville Times, its staff or publishers)
A monthly look at ways to get involved with your city: Don't just live in Somerville, be Somerville
Things may slow down in other places as the holiday season approaches, but not in Somerville. From Election Day and community meetings to scavenger hunts and planting outings, November is shaping up to be a busy month. I often encourage you to get involved with your community and inform you of ways that you can do so, but I think it's important to look back at a previous example that reminds us of just how important your engagement and participation is.
Continue reading »