By Douglas Yu
It's probably more appropriate than flattery to call Leone's Sub and Pizza in Somerville a landmark in the neighborhood: Its everlasting quality of meatballs; signature Sicilian-styled square pizzas that were once delivered to Chris Evans live on ABC News; owners and staff who are never shy of sharing fun conversations with their customers; and most importantly, a restaurant where serving the community means more than serving their food.

Continue reading »

Life in the Ville by Jimmy Del Ponte
(The opinions and views expressed in the commentaries of The Somerville Times belong solely to the authors of those commentaries and do not reflect the views or opinions of The Somerville Times, its staff or publishers)
I don't know about everyone, but a lot of people, including myself, have artifacts or mementos from a place they once worked in or frequented. I have a book of matches from BoBo's Chinese Restaurant that used to be in Ball Square. When WR Grace (Dewey and Almy) on Alewife Brook Parkway tore down the buildings that housed the boiler room that my dad worked in for 38 years, he kept two of his favorite steam gauges. Those really neat looking gauges are still in my cellar. I have a plastic hatcheck from the Jumbo Lounge formerly in Teele Square. Two of the original booths from The Coronet restaurant and lounge (last week's story) were on the front porch of the house across the street for over 25 years. They finally succumbed to weather and old age.

Continue reading »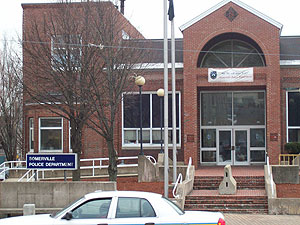 Trade in firearms and rifles, license or unlicensed— for grocery store gift certificates
The City of Somerville Police Department, in conjunction with the Middlesex County Sheriff's Department, will hold a gun and ammunition buyback event on August 16, 2014, where Somerville residents can trade in their unwanted firearms or rifles for grocery gift certificates. This important community service will offer residents the opportunity to properly dispose of firearms to help keep the community safe. This is a no-questions-asked event that puts safety first. Unlicensed residents who turn in weapons will not be prosecuted for the crime of unlawful possession of a weapon.

Continue reading »
Part 1: The kids from Central America

*

By William C. Shelton
(The opinions and views expressed in the commentaries of The Somerville Times belong solely to the authors of those commentaries and do not reflect the views or opinions of The Somerville Times, its staff or publishers)
Once again immigration policy is a daily news item, this time prompted by 30,000 Guatemalan, Honduran and Salvadoran children who have arrived here since January. Hoping to save them from the indiscriminate violence that permeates daily life, their parents are paying coyotes to bring them to our border.

Continue reading »

By Joseph A. Curtatone
(The opinions and views expressed in the commentaries of The Somerville Times belong solely to the authors of those commentaries and do not reflect the views or opinions of The Somerville Times, its staff or publishers)
You may have noticed that Somerville streets seem a little leafier lately. In a densely built urban city like Somerville, greening our streets and neighborhoods can be a difficult task, but it's a challenge we're committed to taking on. Part of the solution to that challenge is expanding our tree canopy, which is why last month we planted 575 new public trees throughout Somerville as we march toward our goal of planting 2,000 new trees by the end of 2015. Public trees do more than beautify our neighborhoods, although that's important too. Increasing our tree canopy improves our air quality, saves energy costs and can even help slow down traffic and deter crime. In short: the healthier our trees, the healthier our community.

Continue reading »
— Photos by Claudia Ferro and Donald Norton
Somerville's 11th Annual National Night Out Against Crime and Drugs, hosted by Somerville Cares About Prevention (SCAP) in partnership with the Somerville Police Department, Mayor Joseph A. Curtatone and Somerville Office of Prevention (SOP) Director Cory Mashburn took place on Tuesday, Aug. 5 at Foss Park. The event included Fire and Police Department demonstrations; a presentation from the Massachusetts State PoliceK-9 unit; live performances by the Sunsetters, Teen Empowerment, and the Red Tiger Academy of Martial Arts; youth activities and games; raffle prizes; and information tables from over 30 neighborhood agencies.

Continue reading »
At the National Night Out last week in Foss Park, little Delia Sousa showed off her karate skills for all to see. Delia is part of the Red Tiger Dojo team right here in Somerville's Winter Hill area. It might be added that she was recently given a certificate of merit. Ms. Delia Sousa is also a huge fan of The Somerville Times, and we think she's not only cute, but we hear she's the brains of the family. She certainly has a lot of charm.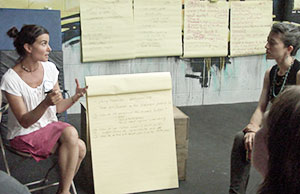 Somerville Neighborhood News is a community service production of Somerville Community Access Television. Every two weeks we are excited to bring you news segments reporting on various issues happening in Somerville. Stay updated on the latest trends on Twitter & Facebook @SCATVSNN. Here are the latest headlines for SNN # 21:
By Jeremy F. van der Heiden
This is the first installment of a three-part series of our interview with Massachusetts State Treasurer Steve Grossman, who is currently campaigning in the gubernatorial race.
Treasurer Steve Grossman recently dropped into The Somerville Times newsroom for an interview, discussing his vision of the economy, women's equality, small business empowerment and much more. Treasurer Grossman has a long history in politics and business.

Continue reading »