Rubber Duckies Race to Raise Money for Science Education
Family Friendly Festival to Support the "e" inc. Museum
Saturday, Oct. 14
On Saturday, Oct. 14, 3,000 rubber ducks will be released into the Boston Harbor to race in the inaugural "e" inc. Duck Dash. Funds raised through the family friendly festival, which will include music, food, fair games and science activities, will go to support the second rotating exhibit, "Our House: Rethinking Home in a Changing Climate," at the newly opened "e" inc. Environment Science Discovery & Action Museum.
"e" inc. is the leading nonprofit bringing science and civics to youth and families in Metro Boston. The nonprofit's Museum teaches visitors of all ages about the beings, biomes, resources and systems of our planet through a combination of hands-on experiences and traveling exhibits. "Our House" will offer children inspiration and ideas about how they can make changes to combat the challenges posed by climate change within their own homes and neighborhoods. The exhibit is slated to open in January, 2018.
How it works: Rubber ducks are $5 each and must be purchased in advance. Each duck will have a corresponding number for participants to monitor their progress during the race. The first place winner will receive a $350 cash award. Other Duck Dashers will have the opportunity to win prizes donated from local and Boston-based businesses. 
"e" inc. will have fun fair games, science activities, and kite-making from recyclables. Amy Kucharik and the Second String Band will provide the music. Middle Eastern cuisine from the Chubby Chickpea food truck will be available for purchase. The event goal is to raise $20,000.
The inaugural "e" inc. Duck Dash will take place on Saturday, Oct. 14 from 11 a.m. to 3 p.m. along the Little Mystic Channel in the Charlestown Navy Yard, located at 114 116th street in Charlestown. The event will take place rain or shine (ducks love water)! For more information about the event and to purchase your lucky ducky, visit:http://www.eincmuseumtkts.org/duck-dash.
_________________________________
TITLE Boxing Club Grand Opening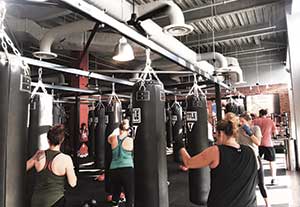 TITLE Boxing Club Boston hosted the official grand opening of its third location at 381 Revolution Drive at Assembly Row in Somerville on Tuesday, July 11, providing residents and business professionals a transformative workout experience through invigorating and energizing total body boxing and kickboxing classes.
TITLE will offer free training sessions through the week, ending on Friday, July 14. Classes are booking up fast, so those interested in their 'First Shot Free' complimentary class are encouraged to call (617) 426-9464 to secure his or her spot.
Classes on July 13 and 14 will be held at 5:30 p.m. and 7:00 p.m. Classes on July 12 will be held at 6:00 p.m. and 7:30 p.m.
Register for the class by requesting at www.TITLEAssembly.com and submitting a Try A Class form. Or the post on TITLE Assembly Row's Facebook page at www.facebook.com/TBCAssemblyRow.
 _____________________________________
Somerville Resident & Longtime Salter HealthCare Team Member Awarded
Salter HealthCare (http://www.salterhealthcare.com), one of Massachusetts's most trusted leaders in rehabilitation and skilled nursing care, today announced the recipients of their employee recognition awards for tenure. Seventeen team members who have been with the company for 5 years or more were recognized at a special ceremony held on March 7, 2017 at Winchester Rehabilitation & Nursing Center.
The star of the day was Certified Nurse Aide (C.N.A.), Judy Enos, who has been with Salter HealthCare for 44 years. Massachusetts Senator Jason Lewis presented Enos with a special citation from the Massachusetts Senate and from Governor Charlie Baker. "It's not every day that I get to recognize someone who has worked for a company for over 40 years and that says a lot about the Salter organization," said Lewis. Fellow staff members applauded Enos for setting the tone, attitude and work ethic for everyone around her before presenting her individually with a rose to the song, Simply the Best.
The complete list of award recipients includes the following.
5 Years of Service
·       Chelsea O'Brien of Medford, C.N.A.
·       Mimose Renois of Everett, C.N.A.
·       Marie Beaubrun of Chelsea, C.N.A.
·       Yvonne Melanson of Burlington, Receptionist
·       Julia Robertson of Woburn, Licensed Practical Nurse (L.P.N.)
10 Years of Service
·       Patty DeFrancesco of Tewksbury, Physical Therapist
·       Bonnie Burke of Malden, Activities
15 Years of Service
·       Tom Cannon of Woburn, Environmental Services Supervisor
·       Gabriel Mutagubya of Dracut, L.P.N.
·       Lena Avery of Somerville, Registered Nurse (R.N.)
·       Danie Jeudy of Malden, C.N.A.
·       Edy Lopez of Chelsea, Cook
·       Rio Ito of Marlborough, Patient Accounts Representative
20 Years of Service
·       Natasha Auguste of Fitchburg, C.N.A.
·       Jane White of Reading, C.N.A.
·       Pat Shea of Winchester, Physical Therapy Director
40 Years of Service
·       Judy Enos of Burlington, C.N.A.
"We are proud to have such a tenured staff and that's a big part of what sets us apart," said Bob Driscoll, Chief Executive Officer of Salter HealthCare. "A key part of this is the team-oriented, family environment the entire staff fosters. We're a heart-first organization, and our employees support each other and are committed to improving the quality of life for our patients."
*****************************
bfresh® alerts customers to voluntary recall of Gourmet Bay tilapia and National Fish & Seafood products

Following recalls by Slade Gorton & Co. and National Fish & Seafood, bfresh® announced it removed from sale Gourmet Bay tilapia and Schooner Fish products which may contain milk, an allergen that is not listed on the ingredient label. These products are safe to consume for individuals who do not suffer from a milk allergy.

The following products are included in this recall: 
•	Gourmet Bay Toasted Crumb Tilapia, product code 7396701
•	Gourmet Bay Honey Mustard Tilapia, product code 7324801
•	Golden Crunchy Style Cod Fillets 1 lb. pkg., UPC 52552-12354 with sell by date 9/20/18.
•	Golden Crunchy Style Flounder Fillets 1 lb. pkg., UPC 52552-12356 with sell by dates 9/22/18 and 10/20/18.
•	Crunchy Fish Sticks 1 lb. pkg., UPC 52552-12359 with sell by date 11/10/18.

bfresh® has received no reports of illnesses to date.  People who have an allergy or severe sensitivity to milk may run the risk of serious or life-threatening allergic reaction if they consume this product.

Symptoms of food allergies typically appear from within a few minutes to two hours after a person has eaten the food to which he or she is allergic. Allergic reactions can include: hives; flushed skin or rash; tingling or itchy sensation in the mouth; face, tongue, or lip swelling; vomiting and/or diarrhea; abdominal cramps; coughing or wheezing; dizziness and/or lightheadedness; swelling of the throat and vocal cords; difficulty breathing; loss of consciousness.

Customers who have purchased this product should discard any unused portions and bring their purchase receipt to bfresh® for a full refund.  

Consumers looking for additional information on the recall may call Slade Gorton Quality Assurance at 
1-800-225-1573 from 8:00 a.m. to 5:00 p.m. EST or National Fish Seafood Quality Assurance at 978-879-5578.
 ______________________________
Endicott College to Host Young Writers Workshop for Local High School Students
 The Endicott Young Writer's Workshop, which will be held on June 24-25, 2017.   This camp-like experience provides students who will be in grades 9-12 in the fall, and who have an interest in creative writing, an opportunity to meet other student writers and to work closely with three of Endicott's most accomplished professors and writers: Charlotte Gordon, Dan Sklar, and Elizabeth Winthrop.
To register
High school students with an interest in creative writing are invited to attend a Young Writers
erlihy@endicott.edu
; Tel-978-232-2178.
 ___________________________________
LEGOLAND® Discovery Center Boston to rename 20-foot-tall LEGO Giraffe in honor of Giovanni "Gio" Maggiore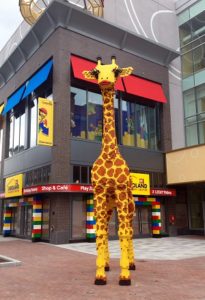 On Wednesday, May 31, LEGOLAND® Discovery Center Boston will host a ceremony to rename "Tessie" the large, 20-foot-tall LEGO Giraffe outside of their building to "Gio" in honor of Giovanni Maggiore, the Medford six-year-old who passed away in April after battling Congenital Heart Disease (CHD).
Gio was in the news recently when his family and friends nominated his name for the baby giraffe that was born at the Animal Adventure Park in Harpursville, NY. After his name wasn't chosen for the new calf, a friend of the family and secretary from the Brooks School in Medford where Gio was a student, reached out to LEGOLAND Discovery Center Boston to ask if the large LEGO Giraffe could be renamed in Gio's honor.
WHAT:        LEGO Giraffe Renaming Ceremony
 WHO:          
Chris, Maya & Carmen Maggiore, Gio's Parents and younger sister
Megan Amaral, LEGOLAND Discovery Center Boston Master Model Builder
David Gilmore, LEGOLAND Discovery Center Boston General Manager
Gio's family & friends                   
WHEN:        Wednesday, May 31 at 3:00 pm           
WHERE:       LEGOLAND® Discovery Center Boston
                  Outside by LEGO Giraffe
                  598 Assembly Row, Somerville
ADD'L INFO:         
The ceremony will include an unveiling of a special addition to the LEGO Giraffe in honor of Gio.  Gio's family and friends will also be invited to stay and enjoy LEGOLAND Discovery Center Boston after the ceremony.
The 20-foot-tall LEGO Giraffe outside LEGOLAND Discovery Center Boston was originally named Tessie in a 2014 naming contest when the attraction first opened. The giraffe is made up of 22,000 DUPLO bricks.
About LEGOLAND® Discovery Center Boston
LEGOLAND® Discovery Center Boston is the first and only one in New England. The 44,000-square-foot indoor attraction, geared toward children aged 3 to 10 and their families, features millions of LEGO® bricks and offers a fun, highly interactive and educational two- to three-hour indoor experience. The attraction features interactive LEGO® experiences, LEGO® Rides, LEGO® Studios 4D Cinema, LEGO® MINILAND featuring replicas of Boston landmarks made out of LEGO bricks, LEGO® Factory Tour, LEGO® Ninjago Training Camp, LEGO® City Builder and birthday rooms.
____________________________
Boston and College Avenue intersection improvements may cause traffic delays this summer
Road and sidewalk construction on Boston and College Avenues in Medford may cause traffic delays in the Tufts University vicinity beginning Thursday, May 25. The phased project, which will improve pedestrian, bicycle and vehicular safety conditions at the busy intersection, is scheduled to be completed in mid-August.
Traffic will be reduced to one lane through the Boston and College Avenue intersection during the road and sidewalk construction, beginning Tuesday, May 30. Pedestrian traffic will be guided away from the work zone. Curtis Hall at 474 Boston Ave. will be open and accessible during construction.
The Medford Police Department will be on site to direct road traffic.
If you have any questions or require additional information, please visit https://sites.tufts.edu/construction/intersection-improvement-project/.
You may also contact the Office of Government & Community Relations at Tufts University via phone at 617-627-3780, or online at http://communityrelations.tufts.edu/contact/.
________________________________________________
 Metropolitan Mayor's Coalition Votes To Oppose Ballot Question #1

 Wynn Resorts is pleased that the Metropolitan Mayor's Coalition has voted to oppose ballot question #1. The mayors who voted to oppose ballot question #1 are:
MARTIN J. WALSH, Mayor of Boston
JOSEPH C. SULLIVAN, Mayor of Braintree
MEL KLECKNER, Town Administrator of Brookline
RICHARD C. ROSSI, City Manager of Cambridge
THOMAS AMBROSINO, City Manager of Chelsea
CARLO DeMARIA, JR., Mayor of Everett
GARY CHRISTENSON, Mayor of Malden
STEPHANIE MUCCINI BURKE, Mayor of Medford
ROBERT J. DOLAN, Mayor of Melrose, Vice-Chair
THOMAS P. KOCH, Mayor of Quincy
BRIAN ARRIGO, Mayor of Revere
JOSEPH A. CURTATONE, Mayor of Somerville, Chair
JAMES M. McKENNA, Town Manager of Winthrop
 WORDING OF THE MAYOR'S COALTITION STATEMENT AGAINST BALLOT QUESTION #1:
The Metropolitan Mayors Coalition voted to oppose Ballot Question 1, which would allow for the Massachusetts Gaming Commission to issue one additional category 2 license, which would permit the operation of a gaming establishment with no table games and no more than 1,250 slot machines. Ballot Question 1, which is being voted on statewide, is written so narrowly that the only property that currently fits the question's description is located in the vicinity of Suffolk downs in Revere.
The Expanded Gaming Act was passed after years of consideration and debate, and its outcome clearly stated that there would be up to three destination resort casinos and one slots facility throughout the Commonwealth. Ballot Question 1 is premature. Before changing the law to allow for additional gaming facilities, we should wait for all the casinos currently allowed under law to open. This will facilitate an informed analysis of whether the Massachusetts gaming market is saturated, or whether the addition of another gaming facility would bring additional revenue to the state. It would also allow for the residents of Massachusetts to assess the effects these facilities have on their host and surrounding communities.
Modifying laws to suit one interested party sets a bad precedent. This ballot question was filed by one developer who has a clear vested interest in its outcome. If the proponent of Question 1 is successful, other individuals may follow the developer's lead and attempt to do this in communities throughout the Commonwealth.
While Ballot Question 1 severely impacts Revere, it will also negatively impact our entire region. The members of this Coalition work tirelessly to address issues on a regional scale. We care about transportation, the environment, sustainability and good governance. This ballot question goes against our priorities.
The Metro Mayors Coalition, an organization of cities and towns in the urban core of metropolitan Boston, is a voluntary forum where members exchange information and create solutions to common problems. The municipal officials comprising this group represent over 1.4 million constituents in Boston, Braintree, Brookline, Cambridge, Chelsea, Everett, Malden, Medford.
 _________________________________
ONCE Somerville launches dedicated web site in partnership with Ticketfly
ONCE Somerville, the two space event hall at 156 Highland Ave, Somerville, operated by locavore caterers Cuisine en Locale, has launched a dedicated web site at www.oncesomerville.com.
The website, which is built and designed by national ticketing agent, Ticketfly, makes discovering upcoming events at ONCE as simple as scrolling down.
Links provided direct visitors to detailed information about shows, and the venue, as well as linking to the parent company, Cuisine en Locale.
Please visit our new site and take a stroll through the fantastic events coming soon to our little spot at the top of Spring Hill.
 __________________________