US2 Announces Friday's "Union Lunch" Lineup
WHAT:           Union Lunch – Each Friday all summer long, enjoy lunch specials from neighborhood restaurants, live music from local bands, and cool happenings from your favorite Union Square shops and friends. Bring your friends, your coworkers, your kids, and meet us for lunch!
WHO:                         Sponsored by US2 & Union Square Main Streets
Featuring Indian Food by UNION SQUARE PIZZA
Ice Cream from THE GALLEY ICE CREAM
Live Music by GREG SHELTON
Fluff Gear from UNION SQUARE MAIN STREETS
WHEN:           This Friday, August 28, 2015
                        11:30AM – 1:30PM
WHERE:         Union Square Plaza
Somerville, MA
For more information visit: http://www.us2unionsquare.com/unionlunch
********************************************************
The Bonney Family, in loving memory of Brandy Rae Bonney's thirty-fifth birthday, announced their sponsorship of the RESPOND Gala, which will be held October 23, 2015 starting at 6:00 pm at the Hotel Marlowe, Cambridge. The event raises funds to allow RESPOND to help survivors of domestic violence and their children to achieve safe, dignified, independent lives free from emotional abuse and violence.
Brandy was born August 19th 1980 and became the victim of domestic violence on September 16th 2005. Her death left her family devastated, but they choose to find ways to keep her memory alive while helping others survive domestic violence.
R ESPOND, Inc., a pioneer in the movement to end domestic violence, is New England's first domestic violence agency and the second oldest in the nation. Its work began in the early 1970s, when four Somerville, Massachusetts women started a grassroots effort to support victims of domestic violence by opening their own homes as safe havens for women fleeing abuse. In 1974, these "founding mothers" formed RESPOND, Inc. For over 35 years RESPOND has provided life-saving shelter, support services, training and education to more than 100,000 members of the community.
Many of those who were close to Brandy work together to keep her memory alive by helping others survive domestic violence and find better lives. Some of them include Brandy's daughter Michelle "MiMi" Bonney; her parents Ron and Rae Bonney; her grandmother Barbara Penn; her sister and brother in law Jeannette and John Harrington; her brother and sister in law Ron and Iwona Bonney; and her nephews John, Chris and Andy; her best Friend Michelle Ellis and daughter Brandy; as well as many aunts, uncles and friends.
Brandy's life is celebrated each year with the annual Brandy R. Bonney Scholarship, which is awarded to a Somerville High graduating senior to attend Bunker Hill Community College. The scholarship is for full tuition and support, and requires participation in the BHCC Mentoring Program 
http://www.bhcc.mass.edu/scholarships/brandyrbonneymemorialscholarship/
.
The Bonney family has also sponsored many smaller needs such as the Be a Buddy not a Bully Program, sports teams, chorus uniforms, and other charitable needs in Brandy's name.
Happy Birthday Sis, Love Brother.
 **********************************************
Don't just shop, give back!
Join Assembly Row from August 10th-23rd for a unique way to support local nonprofit organizations while taking care of your back to school to shopping.
Row It Forward is a points based shopping event that will award over $35,000 in prizes to participating nonprofits. All you have to do is shop, eat and play at The Row August 10-23. Register your receipts at the Assembly Row Welcome Center and allot 1 point per dollar to any of the participating organizations. The organization with the top points will win a $20,000 donation!
Some of the best nonprofits succeed because they are fueled by people with amazing passion for a cause. But often those same organizations fight every day to find critical funding. Federal Realty Investment Trust, owner and developer of Assembly Row in Somerville, wanted to find ways to give back to organizations like Last Hope K9 Rescue, an all-volunteer nonprofit that rescues abandoned, abused and neglected dogs, often saving them just days from euthanasia and giving them a second chance at life. Often the animals are in need of expensive medical attention.
Last year, Last Hope's budget received a big boost from an unlikely source. Through a fun competition at Federal Realty's Assembly Row in Somerville that raised money for nonprofits, Last Hope was gifted what amounted to about 15% of its total funding for the year. As a result, it took on rescue projects it never expected.
The following are based in Somerville or also serve/benefit the local Somerville Community.
Bike to the Sea
Boys & Girls Clubs of Middlesex County
Community Action Agency of Somerville
Community Cooks
Door2Door Transportation by SCM
Friends of the Somerville Public Library
Groundwork Somerville
OnStage Dance Company
RESPOND
Ryan Harrington Foundation​
Sibling Connections
Somerville High School PTSA
Somerville High School Scholarship Foundation
Somerville Homeless Coalition
Somerville pop warner football and cheer
Somerville Public Schools Volunteer Program
Somerville Youth Development and Boxing Club
The Brian Higgins Foundation
Winter Hill Community Innovation School PTA
*****************************************
The Herb Chambers Automotive Family Announces a "Call to Action" for the Jimmy Fund
Dealerships, Website to Match Customer Donations
August is Jimmy Fund Month at Fenway Park and those looking to support Dana-Farber Cancer Institute – which has fought the battle against adult and pediatric cancer for decades – have a powerful ally in The Herb Chambers Companies.
Herb Chambers' group of auto dealers, the largest in New England, announced that it will match all donations up to $175,000 for the Jimmy Fund made through its dealerships and website during the entire month of August. The promotion is part of the group's ongoing partnership with the Jimmy Fund and Dana-Farber Cancer Institute. The Jimmy Fund solely supports adult and pediatric patient care and cancer research at Dana-Farber.
Through this campaign, there are three ways to double the impact customers' donations will have:
Make a gift to the Jimmy Fund online at www.herbchambers.com and click on the Jimmy Fund link at the top of the home page.
Give a contribution to the Jimmy Fund by check at any Herb Chambers dealership (checks should be made out to the Jimmy Fund).
Give cash for any amount in the special Jimmy Fund receptacles at any Herb Chambers dealership.
"This is a call to action for all our customers, neighbors, and even those who just drive by one of our dealerships on the way to work," said Herb Chambers. "We are proud and humbled to join Dana-Farber's fight against cancer, and we encourage everyone to join us, whether it is through a visit to a dealership or making a gift online."
In addition to this campaign, The Herb Chambers Companies' family of dealerships will also support the Jimmy Fund by continuing to give their customers the convenient opportunity to purchase a coveted Boston Red Sox/Jimmy Fund license plate for their new or pre-owned vehicle. Through September, new plate-holders will be automatically entered to win a pair of Red Sox tickets to a regular season home game, and one winner will be selected each month. At the end of the season, one of the monthly winners will be selected to experience an on-field ceremony before the first pitch at Fenway.
Be on the lookout for the automotive family at the 14th annual WEEI/NESN Jimmy Fund Radio Telethon presented by Arbella Insurance Foundation broadcasting live from Fenway Park on August 18 and 19, as they will be the official map sponsor for the event. Herb Chambers team members will be on the phones accepting donations during the broadcast.
For more information about the Jimmy Fund, please visit www.jimmyfund.org. For more information on The Herb Chambers Companies, please visit www.herbchambers.com.
ABOUT THE JIMMY FUND The Jimmy Fund (www.JimmyFund.org) solely supports Boston's Dana-Farber Cancer Institute, raising funds for adult and pediatric cancer care and research to improve the chances of survival for cancer patients around the world. It is an official charity of the Boston Red Sox, as well as the official charity of the Massachusetts Chiefs of Police Association, the Pan-Mass Challenge, and the Variety Children's Charity of New England. Since 1948, the generosity of millions of people has helped the Jimmy Fund save countless lives and reduce the burden of cancer for patients and families worldwide. Follow the Jimmy Fund on Facebook: www.facebook.com/thejimmyfund and on Twitter: @TheJimmyFund.
ABOUT THE HERB CHAMBERS COMPANIES:
Herb Chambers purchased his first car dealership in 1985 and has grown his company into the largest automobile dealership group in New England. Today, The Herb Chambers Companies are comprised of 55 automotive dealerships throughout Massachusetts and Rhode Island. The Automotive Family has over 2,200 employees and annual sales approaching $2.5 billion. There are over 17,000 automobile dealers in America, and Herb Chambers is ranked as the 4th largest privately owned dealership group. For more information and a list of dealerships and locations, please visit www.herbchambers.com.
********************************
Charles J. Chisholm, candidate for Ward Six Alderman, today announced that he has joined the RAISE UP MASSACHUSETTS movement, which is proposing an amendment to the State Constitution to raise a 4% income surtax on those earning more than $1 million per year in salaries and investment income.
Chisholm states, "These funds would add $1 billion dollars to the state's coffers and would allow improvements in mass transit, early education and higher education. I laud the unions, religious organizations and liberal advocacy groups for finally putting together a new tax code which spells out what the rates will be and for whom. That was what was wrong with all the failed graduated tax ballot questions: no defined brackets and no clue what the Legislature would do with the money."
Chisholm adds, "If this FAIR SHARE amendment is passed in 2016 and 2018 by the electorate, we can have early childhood education for all, more effective job creating programs in our community colleges and a transportation system second to none. I would further propose that bus and subway service be free as a result of these new revenues. That would save low and middle income families up to $1,500 a year in pre-tax income. The day the T was free this Spring, there were no traffic jams on I-93, I-95 nor I-90 so drivers benefit too, whether driving or leaving the car home. Cars sitting idling in traffic cause pollution and children near these highways have higher than normal asthma rates."
Chisholm proposes, "In 2018, I want the T to be free under this new tax plan. The taxpayers earning $1 million will still clear of $530,000 a year. That's enough to send three children to Harvard at full cost for tuition, room and board, enough to owe a million dollar home, and have a summer cottage, enough for his and hers Mercedes automobiles without monthly payments, and enough for two nights a week out at a fancy restaurant…still with $100,000 left to invest in retirement funds. So I say, 'ENOUGH IS ENOUGH' and let's have everyone contribute to Raising Up Massachusetts in accordance with their means. "
 ***************************************************
Somerville Medical Facilities take advantage of deregulated markets and solar incentives to reduce their bottom line on energy expenses
EarlyBird Power helps healthcare industry battle rising energy prices
When eight Somerville medical facilities along with some of the largest hospital networks in New England including Cape Cod Healthcare, Steward Healthcare, and the Cambridge Health Care Alliance were looking for ways to cut energy costs, they turned to EarlyBird Power.
EarlyBird Power is an energy market expert providing procurement services, energy management, and sustainability solutions for commercial, industrial, and municipal clients.  Using a highly competitive, transparent procurement process, EarlyBird significantly reduces electricity and natural gas supply costs, as well as solar net metering agreements that further reduce energy expenses.
Steward Health Care, New England's largest community-based hospital network, engaged EarlyBird Power to reduce its energy expenses.  EarlyBird Power developed an energy purchasing strategy, and sourced the lowest prices in the market saving Steward Healthcare Systems $1.2 Million over the next 2 years.
"Energy costs represent a huge percentage of our expenses," said Scott Kenyon, Vice President, Environmental Management, and Corporate Real Estate & Facilities at Steward Health Care.  "The money we have saved on energy has allowed us to invest in other areas of the company that will help benefit our patients."
EarlyBird Power is also providing Steward consulting services on solar net metering opportunities, regular and timely energy market updates, resolving account issues, mediating supplier agreements, and recommending forward energy hedges as opportunities arise.
"EarlyBird Power has demonstrated an ability when procuring natural gas or electricity, to negotiate favorable pricing, terms and conditions," said Ed Browne, Executive Director, Cape Cod Healthcare Facilities and Support Services. "This selection resulted from an extremely competitive process with 13 suppliers providing price quotes for electricity and natural gas."
EarlyBird Power has also been a leader in renewable energy. The company structured a solar net metering agreement between Cape Cod Healthcare and Southern Sky Company that resulted in the largest private solar facility being built in the Commonwealth of MA. This agreement has little-to-no risk and will enable Cape Cod Healthcare to avoid over $250,000 annually in energy costs over the next 25 years.
For more information, please visit www.EarlyBirdPower.com.
***************************************
 US2 & Greentown Labs Announce Speaker Series Celebrating Union Square's Future As Employment Center
Local Innovators, CEOs and Change Makers To Share Experiences On Starting & Growing Successful Businesses
Union Square Station Associates (US2), Somerville's master developer partner for Union Square's revitalization, and Greentown Labs, the nation's largest cleantech incubator, today announced they are partnering on a speaker series to highlight Union Square's future as an employment center.
Sponsored by US2, the events will be free to the public and will feature leading local innovators, CEO's and change makers, sharing their insights about starting and growing a successful business. Speakers will discuss a variety of topics from business trends, sustainability, and securing venture capital to scaling a business from start up to acquisition.
Somerville's comprehensive planning document, "SomerVision," calls for Union Square to be an engine for economic growth. To that end, US2 is working with the community and stakeholders to develop and implement a plan for evolving the neighborhood into an employment center focused on technology and innovation. US2's partnership with Greentown Labs is another step the developer is taking toward fulfilling this vision. Last month, US2 announced it had formed a partnership with Boston-based Workbar to bring the coworking network to Union Square.
"Union Square, with the addition of the Green Line MBTA station and redevelopment investment, is poised to become a significant jobs 
***************************************
The  Assembly Row will have a movie series, hosted by the Department of Conservation & Recreation (DCR). The movies will show every Saturday evening at dusk in Baxter Park beginning July 11.
The schedule is as follows:
Aug. 15: Alexander & Very Bad Day
Aug. 22: Guardians of the Galaxy
Aug. 29: Maleficient
******************************
Somerville YMCA CIT/LIT Job Readiness Program
A few spots are still open for the first session and  plenty of space for our second session of the Somerville CIT/LIT Job Readiness program.  The program serves approximately twenty four, 13-15 year olds in each of the two 4 weeklong sessions, (for a total of 48 youth in eight weeks). With partnership from the Somerville YMCA, Somerville Community Youth Program, Healey Community School and the Teen Empowerment Program this motivational program provides youth leadership, team building, and job readiness training activities.
The purpose of the program is to train youth for future employment in a summer camp program or other job opportunities when they are age appropriate.  The program runs 30 hours a week, 9:00 a.m. to 3:00 p.m., Monday through Friday. The facility is the Healey Community School, whose address is 5 Meacham St, Somerville, MA 02145. In addition to the many aspects the program will cover; the youth will learn how to fill out job applications, create resumes, go on mock job interviews, as well as learn to set up bank accounts.
During the program teens spend time as a counselor in training for a few hours at the YMCA and other local summer day camp programs.  At the end of the four week session the participating youth will receive a certificate of achievement and stipend for completing the program. The first session runs from July 1st to July 24th and our second session runs from July 27th to August 19th r! We are still accepting applications for both sessions.  Applications are available at the Somerville YMCA, 101 Highland Ave, Somerville, MA 02143 as well as online at www.somervilleymca.org. For more information please contact Matt O'Donnell / Joe Pinto at the YMCA (617) 625-5050 or jpinto@somervilleymca.org, citlit@somervilleymca.org.
*************************************
Lifeguard Positions Still Available at Latta Brothers Memorial Pool in Somerville.
With the opening of pools across the state this weekend, the Department of Conservation and Recreation (DCR) is currently seeking applicants for lifeguard positions for many of the state's pools and beaches, including Latta Brothers Memorial Pool in the City of Somerville. DCR lifeguards are professional rescuers who are trained to both prevent injuries from occurring, and to respond in an emergency to help save a life.
"The Department of Conservation and Recreation works hard to ensure that our state's pools and beaches are as safe as can be, and that starts with the training of our lifeguards, who are certified in lifesaving practices and procedures," said DCR Commissioner Carol Sanchez. "I encourage anyone interested, especially someone in the Somerville area, to apply to become a lifeguard for the state this summer."
The current wage for a lifeguard position is $13.26 an hour. The agency also provides CPR and lifeguard certification at no cost to trainees. As part of a team, lifeguards must work together in a calm and efficient manner to manage crisis situations.
To learn more about lifeguarding opportunities with the Department of Conservation and Recreation, please call 617-626-1224 or visit DCR's lifeguard webpage (http://www.mass.gov/eea/agencies/dcr/inside-our-agency/employment/dcr-lifeguard-test-dates.html) for a lifeguard application, requirements of the position, and lifeguard test dates and locations.
*****************************************
Xfinity Customer Service Center in Somerville
Comcast recently held a special reception and ribbon-cutting event to announce the grand opening of its interactive Xfinity Customer Service Center in Somerville.  The 3,100 square foot center has been redesigned entirely around the needs of customers, providing them with an opportunity to explore, learn about and interact directly with the latest Xfinity products and services.
"We're proud to be a part of the Somerville community and to provide our customers with a convenient place where they can experience our Xfinity products and services firsthand and check out the latest technology in an interactive environment," said Steve Hackley, Senior Vice President of Comcast's Greater Boston region. "This new model not only has a more welcoming design, but a new attitude as we apply the same mindset of innovation, speed and reliability that our customers love about our products to our customer service."
The new, interactive Xfinity Customer Service Center, the first of its kind in Massachusetts, is conveniently located at 116 Beacon Street and features flat screen HDTVs, a comfortable seating area and iPads where customers can learn more about Comcast's products and services, including Xfinity Home. Additionally, customers will receive personalized service from trained and knowledgeable sales consultants and more time-saving offerings, including self-service kiosks for quick bill pay.
The Somerville Xfinity Customer Service Center is open Monday through Friday from 10 am – 6 pm and Saturday 9 am – 5 p.m.
****************************** 
Somerville Native, actor/author, Paul Carafotes, is taking a quick pause from his "BUBBLE OF LOVE" tour to visit FENWAY Park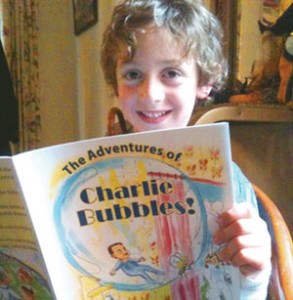 Tomorrow night at the Red Sox vs. Yankee game Paul & his son Charlie will meet Red Sox slugger, David Ortiz (Big Papi) and present him and his team mates with autographed copies of his childrens book
"The Adventues of Charlie Bubbles"
Somerville Native, actor/author, Paul Carafotes, is taking a quick pause from his "BUBBLE OF LOVE" tour to visit FENWAY Park for tomorrow nights Red Sox vs. Yankee game to meet Red Sox slugger, David Ortiz (Big Papi). Paul will visit with his son Charlie and friend Alberto Vasallo of Boston's El Mundo Newspaper and reporter for WHDH-TV NBC to present autographed copies of Paul's highly acclaimed children's book "The Adventures of Charlie Bubbles" to Big Papi and all his team mates. Paul and Charlie are loyal Red Sox fans. Presently Paul and Charlie reside in LA their hearts remain in Boston.
Paul has been bringing smiles and happiness to ill children on his "Bubble Of Love Tour". Recently he visited Children's Hospital Of Boston, Massachusetts General Hospital, Cam Neely Cancer Center at Tufts Floating Hospital for Children, Horizons for Homeless Children, Children's Hospital of Orange County and Children's Hospital LA. Paul's visit to Children's LA was captured by OMG! Insider. On his visits Paul read, sang and donated copies of his book "The Adventures Of Charlie Bubbles!" books to the children. For the donations Carafotes enlisted the support of his celebrity friends including the late James Gandolfini, Joe Mantegna, Christopher McDonald, and many more to deliver a positive message of being "helpful, loving and kind", which is the books theme. Paul has been an award winning actor, writer and director in Hollywood for more than 30 years. "The Adventures of Charlie Bubbles!" is Paul's first, in a series of children's books and is available at: http://www.charliebubblesbook.com/. Paul's second book in the series "Charlie Bubbles 2 Smartsville" is due out in September 2013. You can find out more about Paul and his career by visiting http://www.carafotes.com/ or IMDb.com.