By Josie Grove
Brickbottom Studios has been nestled in east Somerville for over 20 years. Last weekend, the artists who live and work in the studios opened their doors to the public. Hundreds of people flocked to the out-of-the-way white building to see what was inside.

Continue reading »

By Joe Beckman
(The opinions and views expressed in the commentaries of The Somerville Times belong solely to the authors of those commentaries and do not reflect the views or opinions of The Somerville Times, its staff or publishers)
In recent weeks, 'Villens have churned through many rich discussions about affordable housing, stabilizing Somerville, gentrification, and what we might get in redevelopment districts other than overpriced new buildings, inflated rents in old buildings, and displacement.

Continue reading »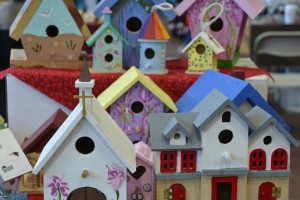 The Somerville High School Track Parents & Alumni Club (SHS Track PAC) is hosting the 24th Annual Holiday Arts & Craft Fair on Saturday, November 28th from 9am-3pm in the Brune Fieldhouse at SHS.  120 artisans from all over New England will display unique items for sale and our Country Store raffle table will offer a chance to win valuable prizes and gifts- Admission is free.  A breakfast/lunch table will be open for business as well.  SHS Track PAC supports the Cross Country & Track teams at SHS and provides scholarships to SHS athletes.
By Amy Swain
On Saturday, November 21, Union Kitchen saw a wild success with Somerville Arts Council's Nibble Entrepreneurship Program pop-up event. More than one hundred people gathered to taste the culinary offerings of chef Robson Lemos.
Nibble is part of the SAC's ArtsUnion Project. Earlier this year, they began the entrepreneur program with cooperation from Kitchen Inc. and the Office of Strategic Planning and Community Development. The program offers local immigrants interested in a culinary career a platform to further develop their talents while interacting with their community.

Continue reading »
By Ross Blouin
The Kiwanis Club of Somerville held its annual Thanksgiving Dinner For Seniors on Tuesday November 17 at the Highlander Café on the campus of Somerville High School at Highland Ave., in Somerville.

Continue reading »

By Mayor Joseph A. Curtatone
(The opinions and views expressed in the commentaries of The Somerville Times belong solely to the authors of those commentaries and do not reflect the views or opinions of The Somerville Times, its staff or publishers)
Ideally Thanksgiving should be a time for friends and family, and for reaching out to help others. I don't know anyone who doesn't live a hectic life. Taking a day or a long weekend to connect with the things that really matter is an important thing to do. Life will zip past you if you let it. Yet, as our televisions, mailboxes and email accounts constantly remind us, Thanksgiving also marks the official start of the holiday shopping season. Doesn't matter what your religion is, chances are you're about to do some serious spending. I'll be out shopping too. So as we Somervillians hit the stores, I want to encourage everyone to spend that money locally, right here in Somerville.

Continue reading »
— Photos by Claudia Ferro
The Somerville High School Culinary Arts Program is busily engaged in producing delicious pies for the holiday season. You can visit their website to download their menu for the Highland Cafe serving lunch Wednesday, Thursday & Friday, 11:00 a.m. to 1:00 p.m. http://www.somerville.k12.ma.us/culinary.
By Josie Grove
"We face a very big issue," said Alderman at large Jack Connolly at the beginning of last week's Public Health and Public Safety Committee meeting. Somerville's Health and Human Services Department, together with the Somerville Police Department, has put together a new plan to deal with opioid abuse in the city. The plan will attempt to rehabilitate people in the community, rather than arresting them.

Continue reading »
By Donald Norton
Tuesday night at City Hall, the Board of Aldermen met in caucus to vote the new President and Vice President of the Board.
By unanimous vote of all the alderman they elected to once again name Alderman At Large William "Bill" White as President for the fourth consecutive year and Alderman Ward 7 Katjana Ballantyne for Vice President for the second year in a row.

Continue reading »
We here at The Somerville Times wish everyone a very happy Thanksgiving Day this week. This is a time for all of us to be grateful for what we have. To reflect on the many blessings we have, in family and friends.
Continue reading »