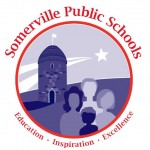 District maintains upward trajectory on 2014 MCAS as state's leading urban district in growth; West Somerville Neighborhood School advances to Level 1 state accountability designation
Somerville Public Schools maintained its phenomenal upward trajectory as the leading urban district in the state for student growth, breaking into the top 15% of all Massachusetts districts in combined growth in English-Language Arts (ELA) and Math, according to Spring 2014 MCAS results released today by the Massachusetts Department of Elementary and Secondary Education. Somerville's continuing improvement in student growth was coupled with more students scoring higher on English-Language Arts, Math and Science MCAS tests, and those results have catapulted nearly every school in the District to either the highest or second highest levels on the state's accountability scale, showing that Somerville is making significant progress in addressing the needs of students at every level.

Life in the Ville by Jimmy Del Ponte
(The opinions and views expressed in the commentaries of The Somerville Times belong solely to the authors of those commentaries and do not reflect the views or opinions of The Somerville Times, its staff or publishers)
I loved pouring thick, chocolaty Bosco chocolate syrup into an ice-cold glass of milk when I was a kid. Of course, the milk wasn't in a cardboard or plastic container. It came in a thick glass bottle that the "milkman" delivered. Can't you still hear the clinking of those empty milk bottles as the milkman picked them up? And what about those cool old milk trucks? You don't see those anymore unless you are watching a rerun of Leave it To Beaver or some other old TV show.

Continue reading »
— Photos by Claudia Ferro
In its 7th year, Riverfest is the culmination of a summer of activity at Assembly Row. Last Saturday, it celebrated all that is great about the property with live music, art, food, children's activities and a fireworks show. Riverfest also marked the final installment of ASSEMBLED: The Handmade Arts Market at Assembly Row. In addition to the dozens of handmade artists, Riverfest also featured plenty of free children's activities, live music all day long, and fireworks over the Mystic River.

Coming from far and wide tiny homes, small house builders, creators and crafters, organizations, and enthusiasts will gather in Somerville on Saturday, September 20th to discuss little living!
The tiny house movement has ramped up over the last decade from a subculture proposing a move away from McMansion-sized homes to very small and often portable houses. Several people have jumped on this bandwagon.

Continue reading »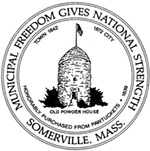 The City of Somerville's Commission on Energy Use and Climate Change (CEUCC) is currently seeking new commissioners.The CEUCC advises the City and the Mayor's Office of Sustainability and Environment on climate change and energy policy issues, including upcoming sustainability initiatives such as the reduction of greenhouse gas emissions and climate change impacts, innovative approaches to energy efficiency, and community outreach and education on climate change and energy. The CEUCC typically meets one weeknight per month at 7 p.m.
Due to the overwhelming popularity and close-out of this Sunday's Sept. 21st Walking Tour entitled "Union Square: An Intermixing of Industry, Immigration and Innovation," the Somerville Historic Preservation Commission expects to repeat the tour the following Sunday, Sept. 28.
Again it will be a free event co-sponsored with ArtsUnion. It will start at Somerville High School (91 Highland Ave.) at 2pm and end at 4:30pm. The route will include interior visits to the historic St. Anthony's Church on Properzi Way and the new Greentown Labs off Dane St. There is no rain date if heavy rain or wind prevails. Prior registration is again required by contacting Brandon Wilson via bwilson@somervillema.govor 617-625-6600, ext. 2532.

By Joseph A. Curtatone
(The opinions and views expressed in the commentaries of The Somerville Times belong solely to the authors of those commentaries and do not reflect the views or opinions of The Somerville Times, its staff or publishers)
David Fallon is officially Somerville's new Chief of Police, after the Board of Aldermen confirmed his appointment last week, and we are on the brink of an exciting time in our city. A born and raised Somervillian, Fallon has spent the past 16 years helping advance the reforms that have turned our Police Department into a model for other communities. Now he will lead the department and expand those reforms, by instilling the philosophy of community policing and layering crime data analysis at every level of the department.

Continue reading »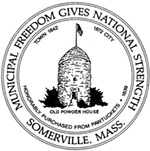 This fall, the City of Somerville is set to bring new and exciting arts and sustainability programming to the former Waste Transfer site on Poplar Street. Thanks to a $415,000 grant from ArtPlace America, the Somerville Arts Council, the Mayor's Office of Strategic Planning and Community Development, the Office of Sustainability and the Environment, and community partners (see below) are working to transform the 2.2-acre site into a community space that cultivates social innovation through art, urban agriculture, and cultural diversity. Using facilities largely built from reused shipping containers, the site will be transformed into a hub of innovation including farm- and food-related activity, as well as a welcoming open space that serves as a new gateway to the community.
Continue reading »
By Jim Clark
Gifted with a phenomenal singing voice and equally impressive songwriting skills, Texas-based songstress Ruthie Foster is once again hitting stages across the USA, this time in support of her latest release, Promise of a Brand New Day.
She will be performing and celebrating the release of the new album at Johnny D's this coming Friday, September 19, for a 7:30 p.m. show.

Continue reading »
By Jim Clark
Police were called to the Stop & Shop store on McGrath Hwy last week on reports of two shoplifters being detained by the store's loss prevention personnel.
Investigating officers took custody of the two men, identified as Ryan Libby, 25, of Everett, and Daniel Goggin, 20, of Boston and questioned witnesses on the scene.

Continue reading »