By Joseph A. Curtatone
(The opinions and views expressed in the commentaries and letters to the Editor of The Somerville Times belong solely to the authors and do not reflect the views or opinions of The Somerville Times, its staff or publishers)
One of the core goals of Shape Up Somerville is to help everyone have the chance to eat fresh, healthy food. It's a simple concept, but a difficult one to put into practice. The U.S. Centers for Disease Control and Prevention has found only one in 10 Americans eats enough fruit and vegetables. We'd like to do better than that here in Somerville, a lot better than that.

Continue reading »
~Photos by Claudia Ferro
The Sunsetters gave their final performance of the 2016 season last Thursday. Residents and passers-by on Kensington Avenue were treated to high-spirited song and dance from the talented group of area youngsters.
Stop & Shop donated treats for an after-performance celebration and Louie's ice cream treated the group to free ice cream. Leone's offered discounted pizza as well.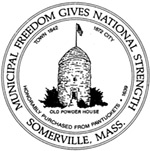 Community Preservation Committee will review submitted proposals for historic resources, open space and recreation land
More than $1.5 million is available for historic resources, open spaces and recreation land projects in Somerville through the Community Preservation Act (CPA). The City invites residents, organizations and businesses to submit eligibility determination forms to see if they qualify for the funding. The forms and additional application materials can be found at www.somervillema.gov/cpa/apply.
By Rebecca Danvers
Winter Hill Bank has received an "Outstanding" Community Reinvestment Act (CRA) rating from the Office of the Comptroller of the Currency, representing the highest possible rating of how well the bank meets the needs of its communities in the areas of community development lending, affordable housing finance, and banking and financial services. This is the bank's fourth consecutive "Outstanding" rating. An outstanding rating is the highest rating possible and it demonstrates the bank's commitment of taking a leadership role in meeting the credit needs of all segments of its communities.

Continue reading »
By Jim Clark
Last Thursday evening, Somerville police was contacted by the Home Depot Asset Protection Manager from the Home Depot store located on Mystic Ave.
Police were reportedly informed that the store security staff had placed a Home Depot employee, Daniel Young, of Malden, under video surveillance, due to reports that he was observed carting large amounts of merchandise out of the loading dock without paying for it, and loading it onto the trucks of various persons he met outside the store.


Continue reading »

Villens United By Chris Haskell
Call me sentimental, but I miss the days when a couple women with bad perms and way too much make-up would brawl over bargains at a Caldor clearance sale…
It's that type of comedic violence that the ladies of B.L.O.W.W. (Boston League Of Women Wrestlers) have bled and sweat into every show, blow by BLOWW since 2004.

Continue reading »
~Photos by Kevin Dickinson
"Seize the Summer," the August installment of the city's SomerStreets festival, took place this past Sunday between Davis Sq. and Teele Sq. on Holland St.


Continue reading »
~Photos by Donald Norton
Dilboy Stadium hosted the 5th Annual Fight Night at Dilboy last Friday evening, sponsored by the Somerville Boxing Club, the Somerville Recreation Dept., Mayor Curtatone and USA Boxing. Attendees enjoyed a night of New England's Best Amateur Fighters while supporting the club and the good work they do for local kids.
By Amy Swain
September will bring with it the official start of the ban of plastic bags at Somerville checkout counters. Large stores will no longer carry plastic bags as of the first of the month; smaller stores and operations will be allowed to carry them through December. Smaller operations, the city believes, should have a little more time to exhaust their supply of plastic bags and secure a suitable alternative.

Continue reading »
(The opinions and views expressed in the commentaries and letters to the Editor of The Somerville Times belong solely to the authors and do not reflect the views or opinions of The Somerville Times, its staff or publishers)
18 August 2016
Dear Mayor Curtatone,
Having just read Mr Nader Kashani's badly thought-out and poorly-written letter, which was inexplicably published in this week's issue of The Somerville Times, I would like to add my voice to what I'm sure will become a chorus urging you to ignore such threats, which you will recognize as constituting a badly-conceived attempt at intimidation. I know from statements you have made that you are firmly in support of the idea that black lives do in fact matter, and that confidently asserting that principle in no way undercuts the more general principle which is fundamental to our society, though not consistently honored in practice, that all lives are, in fact, intrinsically valuable.

Continue reading »