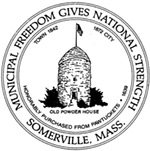 The City of Somerville is seeking craft vendors, musicians, performance artists, dancers, visual artists, storytellers and other creative artists to participate in SomerStreets, one of the area's largest public events where we close the streets to cars and open them to residents for walking, cycling, running, etc.   The 2012 SomerStreets series schedule is:
Carnaval on East Broadway:  Sunday, June 3 , Temple Street to Pennsylvania Avenue
Seize the Summer:  Sunday, July 29 , Walnut Street to Cedar Street
Going Green on Rt. 16:  Sunday, August 19  , Dilboy Field to Broadway
Rolling on the Mystic:  Saturday, September 15 , Location TBD
MonsterMashed Up on Somerville Avenue:   Sunday, October 28 , Washington Street to Beacon Street          
All events are noon-4 p.m. and are rain or shine.  For more information or vendor applications, please visit http://www.somervillema.gov/alerts/2012-somerstreets-series or contact Carlene Campbell-Hegarty, Director of Community Relations at ccampbell@somervillema.gov or (617) 625-6600 ext. 2615.