53 new corrections officers graduate at UMass Lowell Wednesday

*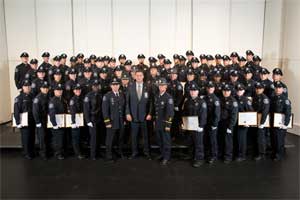 Sheriff Peter J. Koutoujian welcomed 53 new officers to the Middlesex Sheriff's Office in a ceremony at the University of Massachusetts Lowell.
Sheriff Koutoujian told those in attendance it's his mission to educate the public about the work of corrections officers. "Corrections officers should be recognized in the way fire fighters and police officers are," said Sheriff Koutoujian. "My job is to shed light on the work you do every day."
After being named Sheriff in 2011, Koutoujian made it his top priority to increase the number of academy trained officers and announced plans for the department's first basic training academy since 2008. Koutoujian only opened the academy to those officers who already had been working at the Middlesex Sheriff's Office, most of whom were working on a temporary basis.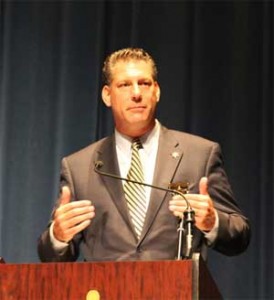 Prior to today's graduation, 1 out of 4 officers serving at the Middlesex Sheriff's Office were not academy trained due to consecutive years of budget cuts. The 53 graduates of today's 35th Basic Training Academy will reduce that number by 50%.
Sheriff Koutoujian specifically recognized Officer Robert Bell who was a temporary officer for six-and-a-half-years, as well as Officers Gregory Petto and Shawn Flynn who were temporary officers for five years.
"Your determination and drive for this field is what led you here today," Koutoujian said. "Your career starts today. So do the right thing. Participate. Lead."
35th BTA Graduation List
*

Beverly
James Cribbins
Billerica
Shawn Ankenbauer
Kevin Graham
Timothy O'Leary
Ryan Ostler
David Petersen
Shawn Pimental
John Gray
Boston
Keri Hogan
Braintree
James Lau
Dorchester
Mark Anderson
East Boston
Joseph Cataldo
Everett
Robert Cooper
Daniel Hansen
Atul Kumar
John Riley
Hyde Park
Antwane Daye
Lowell
Eric Cunha
Shawn Flynn
Michael Geoffroy
Robert McMahon
Casey Ramalho
Michael Wisenburg
Lunenburg
Deven O'Brien
Malden
Cory D'Entremont
Michael Gilardi
Medford
Joseph Brock
Brandon Dobbins
Richard St. Germain
Melrose
Vincent Collins
N. Andover
Jessica Kelley
Peabody
Michael Marks
Randolph
Vardy Duperval
Reading
Anthony Moccia
Revere
Aleksandar Biljanovic
Saugus
Gregory Petto
Somerville
Ducakis Germain
Tewksbury
James Bancroft
Richard Griffin
Christian Irving
Timothy Mancusi
Kevin McCarthy
Ryan Walsh
Jason Tully
Tyngsboro
Robert Bell
Ronald Goulet
Wakefield
Konstantine Bourikas
Waltham
Robert Millian
Watertown
Mark Haskell
Wilmington
Michael Gover
Winchester
Edward Welch
Woburn
Randy Morales
Francis Reid