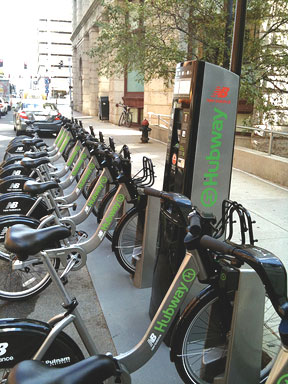 Mayor Joseph A. Curtatone and Somerville Director of Transportation and Infrastructure Hayes Morrison have announced that kiosk installation was under way in Somerville for the popular metro-Boston Hubway bike-sharing system.
The first wave of kiosk setup would include locations at Union Square, Beacon Street near its intersection with Washington Street and at the City Hall Concourse. Hubway is also installing new kiosks in Cambridge and Brookline as the program expands beyond its very successful inaugural run in Boston last year. An official ribbon-cutting ceremony to celebrate Hubway's arrival in Somerville is scheduled for 10 a.m. on August 8 at the City Hall concourse kiosk at 93 Highland Avenue.
"We couldn't be more pleased and excited to get Hubway rolling in Somerville," said Mayor Curtatone. "Bike-sharing is a great fit with our efforts to make our city truly multimodal by providing a range of transportation alternatives. It's an extension of our efforts to make the city as bike-friendly as possible, as well as walkable and drive-able. It's environmentally responsible. It will provide additional connections to the Red Line, the coming Green Line Extension and other transit and commuter rail lines. And it dovetails with our Shape Up Somerville initiative to promote healthy, active living. It's just a great addition to the Somerville scene."
Somerville has requested a total of twelve Hubway kiosks to be installed as soon as the equipment becomes available from the manufacturer. The rental stations will spread across the city from east to west because each new rental point is an extension of an existing central network. Additional locations include Conway Park, Davis Square, Teele Square and Ball Square. Plans for other locations will be finalized based on demand and performance data, but likely locations include Wilson Square, Nathan Tufts (Powder House) Park, Powder House Blvd, Davis Square East and Highland Avenue.
The program's Somerville costs is funded by a $390,000 grant from the Federal Transit Administration and an additional $235,000 from the City's FY13 operating budget."
"We're working now to partner with local pharmacies to provide very affordable bicycle helmets at locations throughout Somerville," said Morrison. "We believe that this can be a safe, cost-effective, fun and healthy transportation alternative, and we're convinced that it's going to be popular with many of our residents."