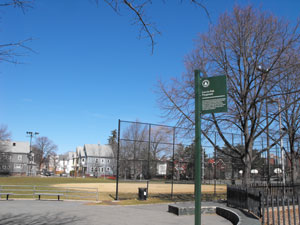 City to Designate Design Consultant to Work with Park Users and Neighbors on New Set of Proposals to Upgrade Park Facilities
Mayor Joseph A. Curtatone announced today that he has directed the Office of Strategic Planning and Community Development (OSPCD) to appoint a design consultant to manage a new and more comprehensive planning process for proposed upgrades to recreational facilities at Lincoln Park.
"We've had repeated requests from community members for expanded input on the selection of design alternatives for this valuable citywide recreational facility," said Mayor Curtatone.  "A lot of work has gone into analyzing the best ways to upgrade the park so that it can support a wide variety of uses, and three public meetings were held based on a set of preliminary design proposals. But it's clear that some residents have not been aware of past opportunities to participate in public discussions, or would like more opportunity to comment on each step of the process.  I think it's also clear that there are strong differences of opinion about how best to proceed in fulfilling Lincoln Park's potential as a community resource.  Rebooting the process and adding additional outside expertise should address these concerns."
"Somerville residents in every neighborhood of the city understand that we need to provide improved year-round access to athletic fields and recreational facilities wherever we can," said Curtatone. "More and more sports organizations are seeking more and more practice and playing time.  Restarting the Lincoln Park process, and creating an approach that involves all stakeholders at every step will actually save time in the long run and keep us moving toward a facilities upgrade plan that represents the fullest possible range of public input and review."
The City had originally sought public comment on a plan to renovate Lincoln Park based on community requests for, among other improvements, a synthetic turf sports field, a grass field for passive recreation, renovation of the existing basketball courts and the creation of a seasonal ice rink. The plan also necessitated the construction of a new structure to house ice rink infrastructure as well as bathrooms, concessions and a skate rental area.
"The original design consultant did an outstanding job with the specific parameters we initially established, but we never asked for a truly comprehensive approach to reimagining Lincoln Park from the ground up.  That will be the new mission – and since we plan to restart the process, we're suspending public meetings until we can start fresh." Curtatone said.  "We expect the selection process to take several weeks."