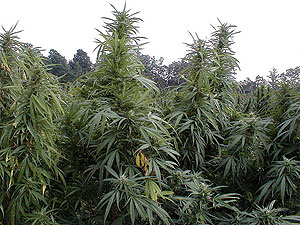 By Jim Clark
*
When Mike Cann read about the recent meeting at the Cross Street Senior Center, where the Massachusetts Medical Marijuana Initiative – Question 3 – was discussed, in last week's edition of The Somerville News, he knew that he wanted to respond with his own point of view on the matter.
*
The initiative, which would allow for the use of medical marijuana in the state, is slated for voter approval or rejection in November.
*
Cann is especially qualified to present the counterpoint opinion to what was presented at the meeting by principle speaker Cory Mashburn, Director of the Somerville Office of Prevention. As a medical marijuana user himself, Cann has served as President of MassCann/NORML and has sat on its Board for over ten years. In addition, he hosts an independent media show that he hopes will shed light on what he considers to be a very misunderstood subject.
*
Cann has strong opinions on how the opposition to Question 3 presents its arguments against the initiative. "It seems very one sided," Cann said. "It seems very stilted towards a predetermined outcome. They're not really interested in a complete dialog."
*
He went on to say that he felt that a number of points brought up at the meeting were flatly untrue. "Like Colorado's teen use going up. He [Mashburn] didn't cite a source. I looked it up, and Colorado's teen use has gone down since medical," according to Cann. "And that's from the YRBS, which is the Youth Risk Behavior Surveillance system, and that's from the Center for Disease Control."
*
Cann feels that the opponents of medical marijuana are presenting information that is completely opposite to what his own researches have uncovered. "You can talk about the MS [Multiple Sclerosis] Society. Their most recent expert opinions are that cannabinoids do help with neural damage. It helps the patient live a longer life." He feels as though the medical marijuana opponents deny this sort of thing.
*
As for pharmaceutical alternatives such as Marinol and Sativex, Cann is convinced that these drugs are not only far less effective in helping patients relieve their symptoms, but in many ways can be detrimental to one's health and well being. "They talk about how cannabis today is 10 percent THC and how much of a problem that is, but then they start saying that you should just use Marinol and Sativex instead of the cannabis. And when you look at Marinol, it's 100 percent THC. So, you're complaining that 10 percent is too much but now you want to give me 100 percent in a pill form?" Cann says that it's more expensive for the patient and it gets you higher. "It makes people paranoid. It zonks people out."
*
Conversely, Cann maintains that cannabis is something natural that's been bred for thousands of years as medicine. "This is the first medicine. It's always been the best medicine," says Cann. "I don't even like to call it medicine. That's only one part of it. It's really an herb. It can be food, it can be fiber, it has all these other uses."
*
Ultimately, Cann asks, "Why do you want to take something that is just a plant that helps people and give it to us in a pill form that's ten times stronger for ten times the amount of money – money that goes to these corporations that are pushing these other drugs like oxycontin?"
*
Cann goes on to state that much of what he sees as misinformation being fed to the public is due to the fact that opponents of medical marijuana tend to "cherry pick" their facts, often citing outdated studies and reports that tend to skew the debate in their direction. "A lot of this is politics and I feel that a lot of what they're saying is just not truthful."
*
The reasons for this disconnection from the truth, as Cann sees it, partially involves fear: "I gotta think that somebody like Cory [Mashburn], who lives in Somerville, he obviously works in Somerville, I believe he really thinks these things are true, unfortunately. And maybe that's it. They believe it so much they want to prove it."
*
Cann also wonders if some in the opposition are just looking for jobs. "They need to ramp this back up. They're losing their drug war. Every single state is now looking at medical marijuana," according to Cann. "We're looking at 62 percent support for legalization, full legalization in Massachusetts. That's more popular than Obama. That's more popular than Mitt Romney."
*
"They're grasping at straws," says Cann of the initiative's opposition. "We're going to win on this. People know. Their life experiences have taught them." Needless to say, he feels completely confident that the initiative will pass.
*
Mike Cann is co-host of and produces a weekly live streaming show at UnRegularradio.com. He also has his own YouTube channel at http://youtube.com/mikecann.