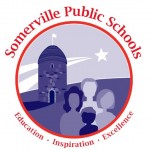 Somerville High School Headmaster, John Oteri announced last week that SHS senior, Ruth Grossman has been named a Commended Student in the 2013 National Merit Scholarship Program. Ruth was presented with a Letter of Commendation from Somerville High School and National Merit Scholarship Corporation (NMSC), which conducts the program.
Grossman was among 50,000 students across the nation to rank in the top 5 percent of more than 1.5 million students who took the 2011 Preliminary SAT/National Merit Scholarship Qualifying Test (PSAT/MMSQT®).
Grossman's PSAT score lands her among 34,000 Commended Students throughout the nation who are being recognized for their exceptional academic promise.
"This is an exceptional honor for Ruth and the entire Somerville High School community," stated Mr. Oteri. "One of the greatest rewards of being educators in the Somerville community is our daily interaction with a student population that embraces hard work and perseverance as core values. Our students take pride in the work they do, and Ruth is a prime example that Somerville students are great achievers. I offer my sincere congratulations to Ruth and her family for this outstanding achievement."
Ruth now adds being a National Merit Scholarship Program Commended Student to an extensive list of accomplishments as a Somerville High School student, including the following. An accomplished musician, Ruth is a member of the Youth Symphony at the New England Conservatory of Music, and received the Orchestra Director's Award in Music last year. She is a member of the Somerville All-City Chamber Orchestra and has been a member of the SHS Musical cast since her freshman year. Ruth is a 2013 recipient of a John and Abigail Adams Scholarship and also received a Harvard Book Award as a junior. A National and Spanish Honor Society member, Ruth was also a third-place finisher at the SHS Science Fair last year and received Honorable Mention honors at the 2012 Region IV Regional Science Fair.
"The young people recognized as Commended Students represent some of the best and brightest minds in the country as demonstrated by their outstanding performance in our highly competitive program," commented an NMSC spokesperson in a statement issued by the National Merit Scholarship Corporation. "We sincerely hope this recognition will provide them with additional educational outlets and motivate them in their pursuit of academic achievement."