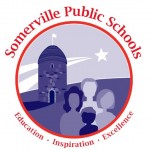 Literacy Activities, Prizes and 'Curious George' Highlight 2012 Somerville Early Childhood Literacy Fair
In celebration of Family Literacy Month, Somerville early education and care schools, programs and providers and other local community agencies will participate in the 2012 Early Childhood Literacy Fair on Saturday, November 17, from 10am to noon at the Arthur D. Healey School. This free event offers Somerville families information about the numerous resources available to families with young children in Somerville. Families are invited to join the festivities, explore books with their children, partake in a variety of family literacy activities, and meet other parents and friends in the neighborhood.
Somerville Early Childhood Literacy Fair
Saturday, November 17, 2012 — 10am to noon
Healey School Gymnasium: 5 Meacham Street, Somerville
FREE
'Curious George' will be an important part of the day's events, making his 2nd appearance at this annual literacy celebration. Children aged birth to six years old can enjoy a multitude of fun activities presented by early education providers and community agencies. Activities will include arts and crafts, reading activities, 'Make a Book,' and even a chance to meet animals from the New England Zoo and the New England Aquarium. The Zoo will feature activities related to the book The Mixed Up Chameleon, with a guest appearance by a lizard friend likely. The Boston Children's Museum and the Museum of Science will also offer plenty of fun activities for everyone.
Other event highlights include a free children's book for your family, free raffle prizes, the opportunity to exchange a gently used children's or parenting book for another during the Book Swap (don't forget to bring a gently-used book with you to participate in the Book Swap), and the chance to have your child's photo taken with Curious George.
The Somerville Early Childhood Literacy Fair is sponsored by the Somerville Family Learning Collaborative (SFLC), the Somerville Early Childhood Advisory Council and Somerville Public Schools. Questions regarding the Literacy Fair can be directed to: scpc@k12.somerville.ma.us.