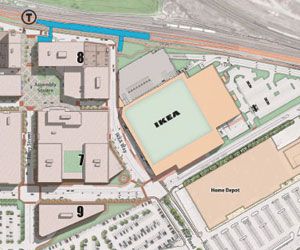 By Jim Clark
It was announced on Tuesday that Federal Realty has signed a purchase and sale agreement for the 12 acres of land being sold by IKEA in the Assembly Square district of Somerville.
While subject to final approval by both parties, Federal Realty has stated that it will use the next several months to complete its due diligence on the property and its potential development.
In a statement issued by Federal Realty, Senior Vice President for Development Don Briggs said, "The 12 acres being sold by IKEA is extremely well located real estate, less than two miles from downtown Boston and serviced by transit. Assembly Square is closer to downtown Boston than most of Boston and sits in the heart of the innovation talent pool. The vision for the 12 acre parcel would include mixed use buildings including office, medical office, residential, and a regional grocer as a major element in the overall design plan."
Mayor Joseph A. Curtatone commented on the matter saying, "Federal Realty has already demonstrated that it shares the city's vision for the Assembly Square district as a true urban neighborhood. I think their preliminary development approach for the IKEA parcel will enhance the future of the entire district as a thriving community and a multimodal destination for shopping, dining and entertainment. No other developer in the country has more experience with projects based squarely on smart-growth, sustainable, mixed-use, transit-oriented development. The speed at which Assembly Row project is already moving confirms that the development model embraced by the city and Federal Realty has already begun to maximize the project's value as a source of private sector growth, jobs, and long-term revenues for investors, tenants, the city and its residents.  I could not be more delighted about this announcement, including the grocery store component. We were sorry to lose IKEA, which has been a responsible development partner, but Federal's plan will be even better for our city."
"We are excited by the possibility of adding to our real estate holdings here which includes Assembly Square Marketplace and Assembly Row, and further enhancing our vision of a connected urban environment for the professional, residential, retail and local community.  We believe that great environments lead to a better quality of life and we are striving to create just that," said Briggs.