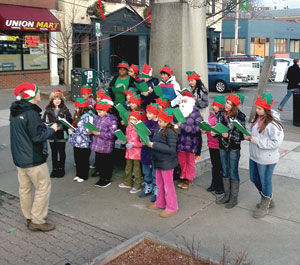 By William Collins
Donning belled green and red caps and huddled cheerfully in front of the World War I stone monument in Union Square, a group of fourth through eighth graders from the Albert F. Argenziano school sang a variety of Christmas carols, from Jingle Bells to Rudolph the Red-Nosed Reindeer last  Wednesday afternoon.
Comprised of students from the afterschool program, the group of about twenty-five youngsters were cheery and well-rehearsed, singing happily to an audience of friends, family and passersby over the rumbling din of late afternoon traffic.
Taking requests from the crowd, as well as making their own requests, the red-nosed youngsters didn't seem to feel the cold on the windy and gray day and, led by music director Paul Barringer, their voices and presence made a happy surprise for residents waiting at bus stops or walking through this pedestrian heavy square.
Barringer described the chorus as "a community organization that reflects the cultural richness and diversity of Somerville," adding "our children love to sing." Both of these statements were made apparent throughout, most especially when the children sang a bilingual version of Silent Night in English and Portuguese, out of respect for the neighborhood's diverse population.
"They nailed it!" a proud looking father exclaimed after a particularly rousing and jubilant version of We Wish You a Merry Christmas, and the children were given a warm reception by the smiling, if a bit chilly, onlookers.
It was a classic collection of wintertime favorites. People walking by could be seen singing along to themselves, or flashing quick smiles after catching first glance of the Argenziano students. Although it was a smaller group of little carolers, the enthusiasm of this mixed bunch shone through, and they sang as children often do: happily.
As the days ticked off and we inched closer to Christmas, Somerville residents were more likely to wander into these festive scenes. As the cold creeps in and snow begins to fall, we can all take warmth from the voices such as those twenty-five students from the Argenziano School Chorus.