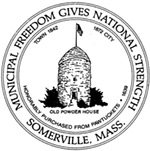 From  Mayor Joe Curtatone
We are about to experience a serious weather event. As we continue to monitor the path and strength of the oncoming blizzard,  please take extra precautions in advance to prepare for potential power outages associated with predicted high winds and heavy, wet snow. Stock enough food and medication for your family members and pets for a 3 to 5  day period. Be sure you have batteries for flashlights, and place them  throughout your home. During power outages, use caution by limiting use  of candles and be sure to clear vents in your home of snow and ice.
Charge your cell phones, but keep their use to a minimum during power outages. During the storm, please remember to check on elderly or disabled family members and neighbors, and call 911 if you have an emergency. For non-emergency inquiries, please call 311. We will continue to monitor the storm, and will provide updates as necessary.
You can also check the city website, Facebook page, and Twitter feeds for updated alerts and information.
Thank you, and please be safe.