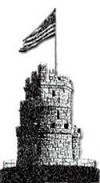 So, all the efforts by the School Committee members – in particular Rossetti, Bockelman and Niedergang – to take a non-issue and go ahead and have 10 resumes reviewed for the appointment to the School Committee seat in Ward 1 was all for not.
It's now been two months and Ward 1 has been deprived of representation. It appears that the winner of the January 22 vote by the School Committee, Ben Echevarria, couldn't find time to appear for five minutes at the City Clerk's office to be sworn in.
What a waste of time for an apparent bag job that seems to have gone wrong somewhere. Maureen Bastardi's nominee, whom she requested to fill her spot, could have been sitting on the Board back in December.
What is it that keeps Mr. Echevarria from stepping up and either serving the ward or stepping aside for someone who is willing and able to do the job? There's an old expression: either fish or cut bait. Neither thing is being done at this point in time.
They talk about transparency, but this whole thing was a sham. We feel sorry for the nine others who applied and were shut out.
Better luck – and "process" – next time.