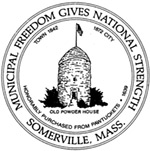 Author Mike Lanza to Lead Discussion on Creating More Active Neighborhood Play Spaces  
Mayor Joseph A. Curtatone, the Somerville Public Library, Somerville Recreation Department, and Somerville Family Learning Collaborative invite all interested residents to attend a community workshop and book discussion with Mike Lanza, author of "Playborhood:  Turn Your Neighborhood Into a Place for Play," a book currently available through the SPL that identifies creative ways to create vibrant neighborhood play areas for children, and solutions to help children spend more time engaging in active play.  The workshop will be held on Tuesday, March 19 from 6 to 8:15 p.m. in the Aldermanic Chambers at City Hall.
Mike Lanza's work focuses on determining how to create neighborhoods that allow children to interact better with their peers near their homes, and to play together outside with less adult supervision. At the workshop, residents will work with their neighbors and city policy-makers to determine what we can do as a community to help children lead connected, play-filled lives. Contact Stephanie Hirsch, shirsch@somervillema.gov, 617-625-6600 ext. 2340 with any questions.