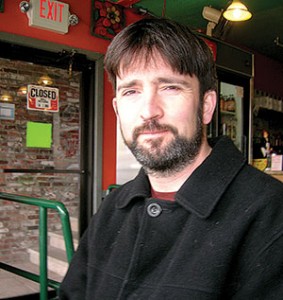 By Harry Kane
In a quirky coffee shop named Ola, located in the heart of Ward 1, newly appointed school committee representative, Steve Roix, sipped on Colombian coffee and reminisced about his arrival to Somerville.
Roix, now 39 years old, used to live Worcester with his wife before he moved to Somerville in 2004. But prior to his relocation, Roix had already started looking for dog parks. He had two mutts at the time, now they are both 12 years old. The first person he contacted was Michele Bisco of Som Dog, a non-profit organization advocating for canine rights.
"Michelle sort of recruited us into lobbying for the dog parks," Roix recalls. "That was before the Nunziato Field Dog Park was open, and long before the Zero New Washington Street Dog Park."
Roix used to call former Alderman Bill Roche all the time, and "bug him" about getting a dog park in Ward 1. "And that's how he knew who I was originally," Roix says. "That was my introduction to Somerville politics."
"When Zero New Washington Street finally appeared, a lot of people don't know this, but, Bill Roche was the one that identified that property to us when we were looking for a place to get a dog park in Ward 1," he recalls.
The city of Somerville was originally planning on selling the land at Zero New Washington Street, according to Roix.
"I think the moment when I kinda fell in love with Somerville was when I started a petition to convince the city that they shouldn't sell that land, they should make a park out of it!"
Roix took the petition around to neighbors. "I just took a lined sheet of paper, wrote something at the top, and started walking around my neighborhood…and some other people ended up helping me, but we ended up getting about 360 signatures on the petition."
Knocking on doors that year, Roix got to know Ward 1 and fellow neighbors. "With a lot of people, there was language barriers, and there was other people that were sorta old-timey Somerville people that had grown up there," Roix remembers. "I told them what the petition was for, and they looked at me like I was a little crazy, and they laughed, but they mostly signed it, anyway." Zero New Washington Park opened in November of 2010.
During a recent Board of Alderman meeting, a resolution was submitted for a new program that would allow off-leash dogs into more parks during designated hours.
"I think there's some merit to expanding access to dog owners into more regular parks, but you have to have the resources to hold the dog owners accountable," Roix says. "I wouldn't mind seeing that done as a pilot program."