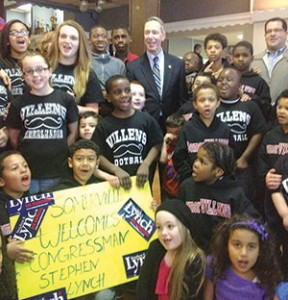 By William Tauro
United States Congressman Stephen Lynch was in Somerville on Sunday afternoon addressing the Somerville Pop Warner Football Teams at their Annual Awards Banquet.
The Congressman received a warm welcome and was literally embraced with open arms by the Somerville Pop Warner children as the congressman made his way around the function hall to meet and greet with them.
Over a hundred of the children stood in line to take a photo as they were receiving their trophies and to get a glimpse of and a photo with the candidate for the United States Senate for the state of Massachusetts.
South Middlesex Registrar of Deeds Maria Curtatone announced and introduced the congressman to the crowd as the he made his way through the packed Somerville function hall to the stage.
Lynch took to the microphone and praised the young players for their athletic accomplishments in playing the sport and also for their participation in after school sports programs and activities.
He also urged the youngsters to do good in school, graduate, and someday make a difference in the world when they get older.
After, the congressman took photos with over a hundred of the children from Somerville Pop Warner teams and their families of Somerville that were in attendance at the standing room only event.
The congressman even posed for a photo holding a Signature "Villen" Football Somerville Pop Warner tee shirt, the kind that the team has been selling to raise needed monies to fund their sport activities and uniform costs.
Congressman Lynch was so impressed with the warm welcome that the Somerville teams and families greeted him with, that after the event was over he called one of the Somerville Pop Warner event organizers by phone and asked him to extend an open invitation to all the entire Somerville Pop Warner team members to be the congressman's guests at a cookout next weekend.
The offer was greatly appreciated and accepted.
Congressman Stephen Lynch is a candidate for United States Senator in a special election to be held to fill John Kerry's seat.