By Rose Scherlis
Somerville has always been a major hub of the Boston art scene. "Of everywhere I have lived, Somerville is the most interesting and artsy, great people," said Gretchen Graham, an artist on display at the volunteer exhibit for Open Studios. Graham is an artist living in Somerville, and it is her second year participating in Open Studios. "It feels like my first year," she said, "I'm just much more involved this year."
Her piece is a black and white photograph of a boy diving into a pool, suspended in mid-air above the water. She named it Twisting into the Pool, after a Dire Straits song. This is her eighth year living in Somerville. "I love it," she said, "Somerville is the funkiest place I've ever lived, it's a very sweet town, sometimes bittersweet."
This exhibit consisted of a collection of pieces by artists who had volunteered for Somerville Open Studios, an up-coming Somerville art exhibit. The volunteer exhibit took place at Bloc 11. Somerville Open Studios is coming to Somerville on May 4 and 5.
Julia Tenney's piece involves a heart formed from used matches built on top of layered, painted text. Ashes form a border surrounding the piece. "It is all formations gone horribly wrong," she says of her piece. "Used matches, ashes for the edging." Tenney says the matches were ones she had used for little tributes in altars in her life, and saved.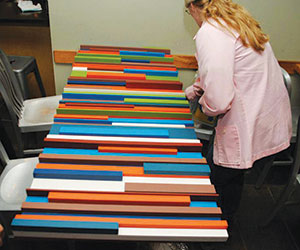 Jim Dowes drew a piece called Snake Eyes, GI Joe. It is drawn in the style of comic books and graphic novels. "It celebrates my love of the comic book medium," he said of his piece.
Jennifer Dowes took a photo of a cook in Chinatown. She said she was getting a bubble tea in Chinatown, had her camera, and thought it was "such a moment in time" that she had to capture the scene. "Chinatown's in our own backyard, but this looks like it was taken in China," she said of her photograph.
Somerville resident Christina M. Tedesco coordinated the Volunteer Show. "Millions and millions of emails, never seen anymore organize like that in my life. She is amazing," Tenney said of Tedesco.
Tedesco said, "I believe at the beginning of Somerville Open Studios, 15 years ago, it started with about 20 artists who wanted to open their doors to the public.  Now we have 109 artists participating in Somerville Open Studios, 2013.  The inspiring thing about Somerville Open Studios is that it is run solely by volunteers but one would think that it is professionally run. I think the opening of the Volunteer Show went fantastically."
"I organized the Volunteer Show because for the past two years I have helped out either being in charge of labels or co-coordinating the show.  I took over coordinating the show because it is very important to honor our volunteers by giving them a show in a local cafe.  I also wanted to make sure the show retained its high quality and showcased the art work of our volunteers," added Tedesco.
Regina Parkinson is Art Curator for Bloc 11, except for this show, which was coordinated by Christina Tedesco. She says it is her second year working on this show, although it is this show's third year. "It's very eclectic, really solid compositional pieces. My favorite piece is in the vault. It was very exciting for me to see a 3D piece this year," Parkinson said.
"Overall, it's a calming show this year, a lot of bluer tones, still lives, it's soothing," she says of the show. "I'm really excited for Somerville Open Studios! Really pumped, very happy we get to do this every year. It's a good community bonding activity," she said.
 List of coming events:
Opening Reception VOLUNTEER EXHIBIT
BLOC 11 Café | 11 Bow Street | Union Square | Show runs through May 19
Art by SOS volunteers who have contributed time and effort in organizing Somerville Open Studios in the past and present
Thursday, April 18 | 11am – 6pm | Opening Reception ARTIST'S CHOICE EXHIBIT
Somerville Museum | 1 Westwood Rd | Show runs through May 12
Group exhibit of SOS participants to help art lovers plan their studio visits
Wednesday, May 1 | doors 6:30pm, show 7pm | SOS WEARABLE ART Fashion Show
Arts at the Armory | 191 Highland Ave.
Live runway presentation showcasing the dazzlingly diverse work of local artists in fashion and wearable art
Thursday, May 2 | doors 7:30pm, show 8pm | SOMERVILLE OPEN CINEMA FILM FESTIVAL presented by SCATV
SCATV | 90 Union Square
Somerville Community Access Television (SCATV) presents: Somerville Open Cinema Festival showcases the multitude of fantastic film artists who create their work in Massachusetts. This mini film festival will feature short (under 10 minutes) films and videos made in Massachusetts (especially Somerville) in genres such as documentary, narrative, experimental, animated, and more.