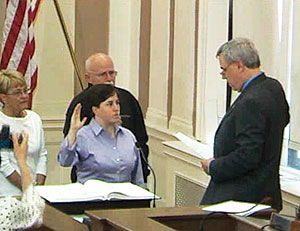 By Jim Clark
With little pomp and ceremony, but with much pride evident in the faces of the parents who stood behind her, Courtney O'Keefe was administered the oath of office of Alderman for Ward 5 at last week's regular meeting of the full Board.
O'Keefe was recommended to the Board by retiring Ward 5 Alderman Sean O'Donovan to serve out the rest of his term. The proposed appointment was sent to the Committee on Confirmation and Appointments for consideration and discussion. The committee unanimously approved the recommendation, sending the matter back to the full Board with their recommendation to appoint O'Keefe as O'Donovan's replacement.
Alderman At Large Bruce Desmond made the formal motion to appoint O'Keefe as the Alderman from Ward 5 for the remainder of Alderman O'Donovan's term at Thursday's full Board meeting.
O'Keefe was then called forward to take the oath of office which was administered by City Clerk John Long.
After the swearing in ceremony was finished, O'Keefe took her place among the other aldermen and participated in the remaining business of the meeting.