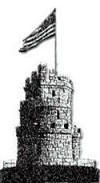 Somerville Open Studios, taking place over this coming weekend, reminds us of the rich abundance of artistic talent that exists within our community. It is no wonder that Somerville is regarded as a significant cultural focal point in the region.
Proudly celebrating 15 years as the city's premiere arts showcase, the event is the largest of its kind in the nation and holds a special place in our hearts as a special celebration of the creative spirit that thrives here.
More than 400 artists will open their studios for the public to experience and explore. Many of Somerville's finest painters, sculptors, photographers, and masters of other media will be welcoming visitors and showing their works, explaining their working processes, and generally mixing with the public.
Along with the regular Open Studios activities taking place throughout the weekend, other special events occurring during the week are also well worth looking into. The SOS Wearable Art Fashion Show happens on Wednesday, May 1, 7:00-9:30 p.m. at Arts at the Armory, followed by Somerville Open Cinema Festival by SCATV on Thursday, May 2, 8–10 p.m. at SCATV, Union Square.
Ongoing exhibits include the SOS Volunteer Show running through May 20 at Bloc 11, 11 Bow Street, Union Square. The Artists' Choice Exhibit also continues through May 10 at Somerville Museum, 1 Westwood Road. The Inside Out Gallery at CVS will be in place through May 6 at One Davis Square. And don't forget to check out the Kids' Art Show running now through May 10 at Arts at the Armory Café.
We congratulate SOS and all of the great people who labor long and hard to put this wonderful event together. We encourage all Somervilliens to take some time and visit an artist near you. You won't have to travel far, they're just a stone's throw away from wherever you may be.
For a complete list of events and hours see www.somervilleopenstudios.org/