Eagle Feathers #26 – Queen of the Air – Heart of the Ocean
By Bob (Monty) Doherty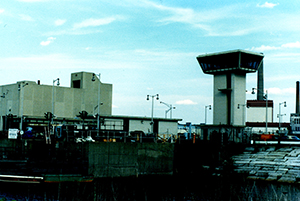 From above, it looks like an island in the middle of a body of water, not unlike a footprint of a modern castle surrounded by a moat. From the shore, it looks like an airport with its conning tower protruding high into the air where operators have a great 360° vista. It was completed in 1966 and was built in Somerville at the intersection of the Mystic and Malden Rivers. Its construction improved navigation and recreation along the waterfront, but its main purpose was to protect against flooding…flooding that could do damage to any of the 22 communities in the mystic river watershed under the right circumstances. Upstream, you will find freshwater rivers, lakes, brooks, and streams. Downriver, it flows into the Atlantic Ocean. The flavor of the ocean and air are highly fitting in the design of this complex because it is Amelia Earhart Mystic River Dam and basin.
So who was Amelia Earhart and what did she do? What didn't she do in the aviation world would be the more appropriate question. She personified the word aviatrix.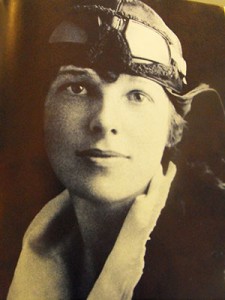 Born in Atkinson, Kansas, she received her education in numerous locations because of her father's occupation as a railroad lawyer. As a young nurse's aide in a Toronto hospital, she tended to injured pilots, sparking her interest in aviation. The family moved to California, where she learned to fly. Then, it was on to the East Coast, where she lived in Medford with her mother and sister and was employed as a Boston social worker.
After establishing the women's altitude record, she was presented with an invitation to become the first female to fly across the Atlantic Ocean, as a passenger. The successful flight was made on Bunker Hill Day, June 17, 1928. Somerville and Medford celebrated with a parade that went from Magoun Square to Medford Square. To put this feat into perspective, it took her 20 hours and 40 minutes to cover the same distance that it took John Winthrop and the Puritans 76 days to do in 1630.
The first male to fly solo across the Atlantic Ocean was Charles Lindbergh on May 20, 1927. Earhart became the first woman to accomplish this exactly five years later on May 20, 1932, and on January 11, 1935, she became the first person in history to fly solo across the Pacific Ocean, flying from Hawaii to Oakland, California.
She was the first woman to receive the National Geographic Society's special medal and the only civilian to receive the Distinguished Flying Cross from Congress. She accumulated speed, distance and altitude records too numerous to list, and her status in female aviation was unrivaled. She died just shy of completion, during her endeavor to circle the globe at the equator.
The biggest memorial in Somerville, The Mystic River Dam, links the Mystic River to the oceans. It honors Amelia Earhart, the first to fly over the oceans.