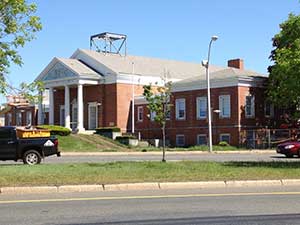 By William Tauro
The Somerville District Courthouse that's located at 175 Fellsway in Somerville is receiving a new clock tower.
After decades of exposure to the elements of New England weather, the old courthouse clock tower was removed this past winter due to rot and deterioration around it's base and entire structure.
Since removal of the old tower, work crews have rebuilt the entire court house roof and a new clock tower is being built on site.
Civil and criminal, family, Small claims and traffic cases are heard at the Somerville Courthouse with most cases that generate from Somerville and Medford.
The Somerville Courthouse was built in 1978.