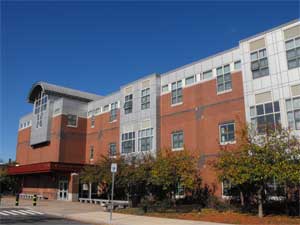 Lowe's Charitable and Educational Foundation has awarded a $5,000 Lowe's Toolbox for Education® grant to the Arthur D. Healey School in Somerville for improvements to the school's learning and nutrition garden and school playground.  The Healey School is one of more than 580 schools across the United States to be awarded a Lowe's Toolbox for Education grant this spring for school improvement projects during the 2012-2013 school year.
The Healey Garden offers hands-on learning opportunities for soil, plant and food investigations during the school day and through after school programs.  This year, some of the Healey School's service learning projects incorporated science curriculum with plant-based study.  Students germinated seeds, identified and observed parts of plants, raised seedlings in classrooms, and planted healthy greens for eventual harvest from their school garden.  A Grade One Service Learning Project raised seedlings as part of their living organisms unit, and started a schoolyard pollinator plot.
Funding from the Lowe's award will support a garden shed, tools, natural science investigations equipment for outdoor classroom activities, shade sails for the playground, and hands-on workshops integrated with science and history curriculum.  This award supports the Healey School's commitment to and practice of hands-on project-based learning and meaningful community service learning.  The project is scheduled to be completed by April, 2014.
Since its inception in 2006, Lowe's Toolbox for Education has provided more than $36 million in grants to 8,000 schools, benefiting more than 4 million schoolchildren. Grants are available to K-12 public schools in the United States for a wide range of improvement projects. Large schools or school districts may be eligible to receive Toolbox grants up to $100,000. Parent groups and educators can apply by visiting ToolboxForEducation.com.
City and community partners Groundwork Somerville, the City of Somerville's Urban Agriculture Ambassador initiative, Boston Cares, Shape Up Somerville, the Somerville Community Growing Center and volunteers are congratulated for their ongoing efforts to improve student health and environmental awareness through expanded learning opportunities around healthy food and plants.