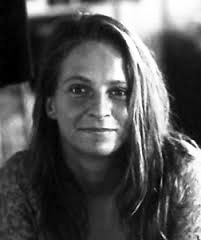 Tiffany Sedaris left us on May 24th. She was raised in Raleigh, NC but made her home in Somerville for nearly 25 years.
A talented, self taught artist with a child's eye for color and form, Tiffany worked in a variety of mixed media including broken bits of pottery and dishware which she crafted into fantasyscape mosaics. Her work has been displayed in a local gallery and at Somerville Open Studios.
Tiffany was somewhat of a local legend as an urban archeologist, and an early advocate for pedal powered transport. Before there was a bike path or marked bicycle lanes, she could be seen cruising the city streets on her Bianchi towing a home built cart in which she'd haul her nightly finds. She saw beauty in other's discards and would use those found objects in her artwork.
She had worked as a professional pastry chef and baker.  But was also an excellent cook who took great pleasure from feeding her friends (sometimes literally by hand), and could almost magically prepare a meal from what appeared to be an empty refrigerator.
As a lifelong music lover whose taste leaned towards jazz standards, soul and hip hop, Tiffany could give a credible rendition of a favorite song by artists such as Dinah Washington, Esther Phillips, Gil Scott-Heron or Biggie Smalls. Her distinctive voice belied her diminutive stature, it was loud and bell clear with a bluesy quality.  In an auditorium setting, she wouldn't have needed a microphone to hit the last row.
Through the years her pets were a constant source of solace for Tiff. From "Hoos" the rabbit to a succession of cats, each having a two word name.  There was "Little Pants", "Mr. Wonderful" etc, etc. Try stepping out on your back porch calling "Little Pants, Little Pants" and listen to the sound of your neighbors throwing the deadbolt.
Tiffany was an absolute original. Her life's rulebook was written for one and subject to revision at anytime. That life could at times be a whirlwind, the safe place was just off to the side where you could feel the breeze and enjoy the show, step into the eye and you could emerge a bit battered and dazed, yet a better person for having been there.
At 49, Tiffany left this world much too soon and gave to it much more than she ever took from it. She gave us all that was gracious and loyal within her.
Rest well Tiffy
7 Responses to "In Memoriam – Tiffany Sedaris"