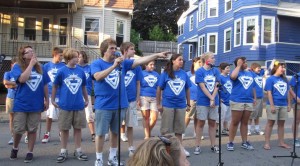 Request a performance in pour neighborhood this summer. All performances take place Monday-Thursday evenings at 7 p.m. in July and August.
Residents are invited to reserve the remaining performance dates  available for the 2013 Somerville Sunsetters, who will begin shows on Thursday, June 27 during the city's annual Fourth of July Fireworks Celebration at Trum Field. Led by Somerville Youth Arts Coordinator Jimmy Del Ponte, the Sunsetters are a traveling youth music troupe, performing popular show tunes and contemporary pop music hits on city streets throughout July and August at sunset.
The group began in the 1970s, performing through the 1980s until they were reinstated by Mayor Joseph A. Curtatone in 2004. The 45-minute shows are a great way to spend an early summer evening with the kids, neighbors, family and friends.
Residents may request performances in their neighborhoods by calling the Mayor's Office, 617-625-6600 ext 2100 or emailing JRossetti@somervillema.gov.