By Douglas Yu
Instead of letting your kids chase around a splash pad, jump into a kidpool or just having a picnic in a park in the hot summer, Somerville residents have their own holiday to celebrate a quality family time, Family Fun Day.
"It began nine years ago when Mayor Curtatone brought fireworks back to Somerville. Family Fun Day kind of went hand in hand," Director of Community Relations at the City of Somerville, Carlene Campbell-Hegarty said. "He came up with the idea of old-fashioned barbecue with family members of all ages can come to have a good time."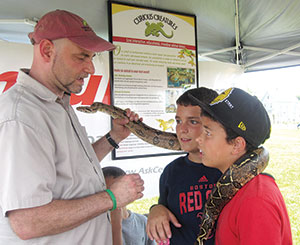 Family Fun Day's activities are held at the Trum Field Park in Somerville every year. This time, however, barbecue was not the only activity that attracts people's attention. There were live music with professional DJ Al Legee, moonwalks, kid soccer, and petting area where brave children are able to touch an alligator or put a snake around their necks. But the kids' safety was guaranteed.
"You see the people wearing 'summer recreation' shirts? They are part of the mayor's youth employment programs," Youth Services Coordinator at the City of Somerville, Nancy Bacci said. "Those teenagers donate their time to supervise all the recreational activities."
There were 22 volunteers from different high schools and colleges working at the Family Fun Day. They used this opportunity as a training day to prepare for the summer camp next week, which is a summertime program, according to the Somerville Recreation Department.
Bacci mentioned that the Police Department, Fire Department and the local ambulance services were also there in support of the holiday.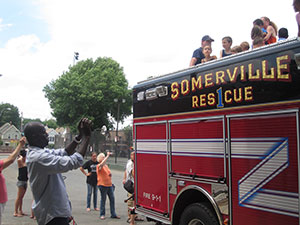 "Young people are able to come and see them when there is nothing bad happening," Bacci said. "You are able to go in an ambulance, lay on a stretcher and see what is like. Kids can climb on the fire truck, and hit the siren on the police car."
Michael Finnegan, firefighter, came down to the Trum Field Park this day to show kids his apparatus. "I let the kids to climb on the truck. It's good to get the experience," he said. "All the firefighters are rotating shifts, and I think a few different trucks all around the city will be coming down throughout the day. This is absolutely a good education for kids. They can ask questions to see what is all about."
Even though thunderstorms had been broadcasted, the weather turned out to be sunny on Family Fun Day.
Kalila Bemoit, a mother of three kids, was invited by one of her friends to come to the Fun Day. "It's not crowded. It seems safe," Bemoit said. "I met a lot of people in the neighborhood whom I didn't talk to before. Also, this is a good chance for kids to set up a play date."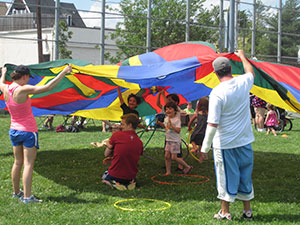 Somerville is a hardworking community. Family Fun Day is a good chance for people here to relax. "Family Fun Day is definitely healthy for kids and our staff," George Scarpelli of the Somerville Recreation Department said. "Most parents work all summer, they don't have that much time to travel to Florida. So this is their vacation. This is their Disneyland."