Movie series,"congregate meals" kick start COA's LGBT events series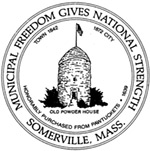 The Somerville Council on Aging and the City of Somerville's LGBT Liaison announce a new events series for LGBT older adults at the Somerville Council on Aging. Beginning this month, events will be held twice monthly, on the second and fourth Mondays of the month, including a congregate meal site and a movie series. Starting on July 8, the Somerville COA will join Boston, Roslindale, Braintree, Cambridge, Salem, and Sharon as a site for a monthly congregate meal site for LGBT older adults. The COA will offer an affordable lunch every second Monday at 11:30 a.m., with food provided by a different local restaurant each month.
Congregate meals will be held on July 8, August 12 and September 9 beginning at 11:30 at the Holland Street Center, 167 Holland St. Meals will be provided with purchase of a ticket, priced at $6.00, as follows:
July 8: Masala Indian Restaurant. RSVP Required by July 2
August 12:  Greek Corner Restaurant. RSVP Required by August 8
September 9:  Maya Sol – Mexican Grill. RSVP Required by September 6
Upon RSVP, please specify your meal choice:  chicken or vegetarian.
The monthly LGBT movie series, "Movies to Come Out To" kicked off in June 2013, and takes place on the 4th Monday of every month at 5:30 PM. RSVP is required.
July 22: "Fire." Sita and Radha are young Indian women whose husbands choose celibacy or mistresses over their wives. The two women become friends and grow closer together, forming a forbidden but liberating relationship. A lush, passionate story of emancipation and love, in a closed society. Major controversy led this movie to be widely attacked and banned in India.  Meal will be from "Masala Indian Restaurant". $6. Chicken or Vegetarian. RSVP required by July 19th.
August 26: TBD
To RSVP or for more information, contact 617-625-6600 x2300 or lheyison@somervillema.gov.