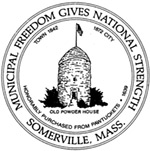 The City of Somerville announces the 2013 SomerPlay locations! Launched earlier this spring, SomerPlay is the City's newest innovative program encouraging community building in Somerville so as to increase the amount of time children play together within each neighborhood. It is based on author Mike Lanza's Playborhood. SomerPlay program concepts were submitted by Somerville residents, with 11 proposals having been accepted. The neighborhood Zone leaders are inviting children and adults from all over Somerville to join in any of these SomerPlay activities. Ten series remain this summer, as follows:
Josephine Ave SomerPlay Zone: Each Sunday afternoon, July 14 through September 1
Prospect Hill SomerPlay:  Each Sunday afternoon, July 14 through August 25
Growing Center SomerPlay (Vinal Ave): 

Sunday,

August 11
Great Urban Campout (Lincoln Park):  Friday July 12 to Saturday, July 13 (overnight)
Lexington Park SomerPlay Day:  Sunday afternoon, July 21
Madison Street Block Party:  Saturday afternoon, July 27
Linden Ave Block Party:  Sunday afternoon, July 28
Highland Road SomerPlay Zone:  Sunday afternoons, July 28 and September 1
Fremont Ave. End-of-Summer Party:  Sunday afternoon, September 1
Outside on Oxford (Oxford St):  Sunday afternoon, September 14
For the most up-to-date information and to find a Zone in your neighborhood, please visit: www.somervillefamilies.com.
Through SomerPlay, the City is supporting Zones throughout Somerville, created by residents, businesses, churches or other community members that aim to create activities for residents of all ages and that include a component for children.
With any questions, please contact Stephanie Hirsch at SHirsch@somervillema.gov or 617-625-6600 ext 2340.