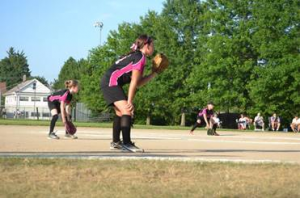 The Somerville Tsunami 10U softball team enters the second half of their season this week with a 6-1 record putting them in 4th place for the push to the finish.
This past week the Tsunami bracketed wins against the Charlestown Townies and the Lynnfield Blue around their only loss of the season to the Everett Riptide.
Hannah Fray picked up her first win on the mound in a strong pitching effort against Charlestown.  Nevalee Hawkins came into the game against Lynnfield to pick up the win in a strong team effort.
Ava Regan pitched three strong innings of relief in the two games, but continued her outstanding hitting going 8 for 8 in those three games including a 3 run home run in the loss to Everett.
The Tsunami started slow against a young team from Charlestown, but found their bats and scored 15 runs on 11 hits including doubles by Jadea Smith, Nevalee Hawkins, Ava Regan and Ishvita Bali.  Jasmine Fridman was 1 for 1 in the game kicking off a week where she had a perfect on base percentage going 2 for 2 and earning four walks.
Despite scoring 9 runs in the final two innings, including a grand-slam and three-run home-runs by Nevalee Hawkins and Ava Regan, the Tsunami could not overcome walks and timely hitting by Everett.  The outfield play of Katie Ziko and Jamie DaSilva kept the Tsunami in the game, but it was not enough as they lost 17-10 for their only loss of the season.
The Tsunami bounced back at Trum Field against Lynnfield as Caitlin Fitzgerald went 1 for 2 with 2 RBI and a run scored while Victoria Delosreyes picked up her first hit of the season.
Yukti Sharma, Nevaeh Sanchez and Chloe Wilson were a combined were a combined 5 for 8 with 8 runs scored in the three games this week as the Tsunami racked up 41 runs on 29 hits.