Food trucks, street performers and urban planning—oh my!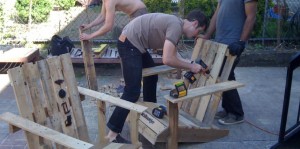 Can food trucks, artist-made street furniture and street performers help design the future of Davis Square's urban landscape? They will in Somerville at the Somerville by Design "Pop-Up Plaza" community planning event, a City of Somerville initiative that will sprout from a parking lot starting Monday, Sept. 9, in Davis Square.
The Pop-Up Plaza will set up shop for three full days, Sept.9 through Sept. 11, in the Cutter Square parking lot (the small triangular parking lot opposite Rosebud Diner on Elm St. in Davis Square) with moveable street furniture, improvised landscaping, food trucks, public art, fabrication demonstrations, and street performers. This temporary public plaza will complement the temporary indoor public design studio in the vacant storefront just across the way at 377 Summer St., where City staff and a team of design consultants will be hosting a variety of day and evening events during a three-day public charrette (a collaborative design event).
Temporary public space projects like this Pop-Up Plaza are an example of "tactical urbanism," an approach to urban planning and design that uses low-cost, grassroots-oriented initiatives as a way to test ideas and incorporate public input for larger projects. Pop-Up Plaza installations have been used successfully in cities across the country, bringing attention to locations that are often taken for granted. These projects also allow planners and advocates to observe how people use public spaces and the features that can create safe, cost-effective parks, plazas and streetscapes. In short, they mix fun and culture with a community purpose.
"Somerville by Design makes planning fun and this is another example of using creative ways to involve the community in crafting our vision for Davis Square and the whole city," Mayor Joseph A. Curtatone said. "We make every effort to engage residents in the planning process via public meetings and the usual outreach. Now with this event, if you want to participate, all you have to do is show up at the Pop-Up Plaza and enjoy the fun."
"Participating in the design of Davis Square's urban landscape has never been easier or more enjoyable for people of all ages," Ward 6 Alderman Rebekah Gewirtz said. "With so much foot traffic already in our vibrant neighborhood, the Pop-Up Plaza is a unique way to examine how public spaces in Davis Square can meet the needs of our residents. I hope everyone stops in to enjoy this fun event and participate in the design studio by lending their imaginations."
The Davis Square Pop-Up Plaza will be open to the public:
9 a.m.-8 p.m. on Monday, Sept. 9
9 a.m.-8 p.m. on Tuesday, Sept. 10
9 a.m.-6 p.m. on Wednesday, Sept. 11
A full list of participating vendors, demonstrations and performances is available at http://www.somervillebydesign.com/, and the following food trucks will be on site:
For more information please visit http://www.somervillebydesign.com/ or call the Mayor's Office of Strategic Planning and Community Development at 617-625-6600 ext. 2500.