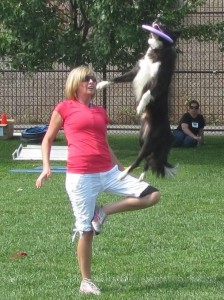 The Somerville Foundation for Animals,  announces the 4th Annual Somerville Dog Festival.  The festival will be held at Trum Field on Broadway, Sunday September 15, 10 a.m.- 3 p.m..  Food for the event will be provided by RedBones BBQ.  Admission is free but donations accepted.
The fundraiser to benefit local animal-related charities will feature a variety of exciting dog sports demonstrations and multiple "try it" rings in which the public can try sports and games with their dogs.  To accommodate the expanded event schedule and ever-increasing attendance, the City of Somerville has again graciously donated space for the event.  "I'm happy to see that this popular event is expanding and growing, bringing the community together for a fun day at Trum Field that also raises much needed funds to support services for at-risk animals.  I thank the Somerville Foundation for Animals and all the organizations that make this festival a reality, and am gratified that the City can co-sponsor this event," said Mayor Joseph A. Curtatone.
"A major partner and key element in the success of this event is the City of Somerville's active participation and support of the event," said Dr. Adam Parker of Porter Square Veterinarian and president of the foundation.  "Our goal is to provide opportunities for families to enjoy healthy activities in the city with their dog and raise funds to support animals in need."  Beneficiaries have included Northeast Animal Shelter, Animal Rescue League of Boston, NEADS Canines for Combat Veterans and Massachusetts Vest-a-Dog.
Organizational partners of the Somerville Dog Festival include Porter Square Veterinarian, Boston Trainer's Network, The Management, New England Dog Training Club and Click 'n Treat Training.
Planned exhibitions and "try its" include dog agility, freestyle, working dogs including Somerville Police K9 unit, Frisbee dogs and tracking demos.  There will also be an art show and silent auction, which will also include items from the Red Sox, Bruins and Celtics.  Crowd-pleasing best trick and best dog/owner look-a-like contests are featured and a dog production of Little Red Riding Hood.  A free "Come when Called" clinic and training instruction will also be offered.  For more information, go to http://www.somdogfest.org.