Arrests:

*
Ricardo Pimentel, of 190 Pearl St., May 18, 7:52 p.m., arrested at home on a warrant charge of operation of a motor vehicle under the influence of liquor.

Continue reading »

Mary Alexandra Agner met me at my usual corner at the Bloc 11 Café in Union Square to discuss her career in science, writing and poetry. Agner moved to Somerville in 1997, and told me that her first poetry publication was in Somerville's Ibbetson Street magazine. Agner earned a degree from MIT and an MFA at Emerson College in Boston. At Emerson she studied with the late, great, and very eccentric poet Bill Knott. Agner said of Knott: "He was very influential and was very willing to work with me and other students. In fact Knott blurbed her first collection of poetry: "Doors of the Body."

Continue reading »

*
I have had a love affair with the great jazz trumpeter Louis Armstrong ever since I heard him sing the line (in that wonderful, worldly rasping voice of his his), "Take your shoes off Lucy, and let's get juicy," from Baby, It's Cold Outside. Poet Matthew Sisson does a riff on this late Jazz great. Matthew Sisson's poetry has appeared in magazines and journals ranging from the Harvard Review Online, to JAMA The Journal of the American Medical Association. He has been nominated for a Pushcart Prize, and he is the former poetry editor of the trade journal Modern Steel Construction. His first book, Please, Call Me Moby, was published by the Pecan Grove Press, St. Mary's University, San Antonio Texas in March of 2015, and is available at his website, matthewsissonpoetry.com, and on Amazon.

Continue reading »
The Navy's Blue Angels squadron of six F/A-18 Hornet jets flew over the Greater Boston area, including Somerville, on Tuesday as part of a scheduled photo shoot.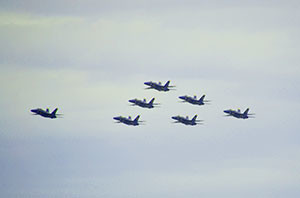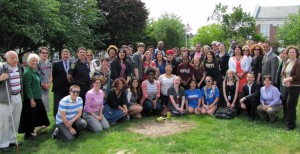 Please join Mayor Joseph A. Curtatone and the Somerville High School Gay-Straight Alliance (GSA) on Wed., May 27, at 2:45 p.m. to raise the Pride flag in honor of LGBTQ Pride Month and LGBTQ Youth Pride. The ceremony will take place on the City Hall concourse, 93 Highland Ave. Mayor Curtatone, City LGBTQ Community Liaison Andra Oshinsky, and a representative from GSA will speak at the event. The event is open to the public, and  community members are invited to join in celebrating LGBTQ youth and the diversity that makes Somerville great. For more information about the GSA and other LGBT programming, events and information, please contact
lgbtq@somervillema.gov
, or 617-625-6600 ext 2400.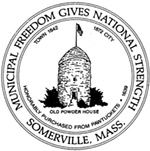 Sullivan appointed interim Chief following retirement of 37-year veteran Kevin Kelleher
Mayor Joseph A. Curtatone announced that Deputy Fire Chief Patrick J. Sullivan III has been named Acting Chief Fire Engineer following the recent retirement of Chief Kevin Kelleher. Sullivan has 29 years of service with the Somerville Fire Department, and is a lifelong Somerville resident.

Continue reading »
Update:  May 28 show at Johnny D's has been canceled
By Blake Maddux
As a musical unit, the Crescent City quintet The New Orleans Suspects has everything going for it. Its members include longtime Neville Brothers drummer "Mean" Willie Green, onetime Dirty Dozen Brass Band lead guitarist Jake Eckert, saxophonist and former James Brown bandleader Jeff Watkins, classically trained pianist C.R. Gruver, and bassist Reggie Scanlan.

Continue reading »
By Tom Bannister
On April 14th, Next Wave/Full Circle High School Principal Margaret DePasquale accompanied Full Circle female students to the Empowering Girls Conference "I'm Worth More," sponsored by Middlesex District Attorney Marian Ryan and the Middlesex Partnerships for Youth. The event was held at Nashoba Valley Technical High School in Westford, Mass.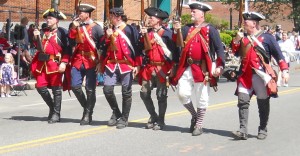 Somerville's annual Memorial Day Parade, the largest in the Boston metro region, and corresponding ceremonies are set for Sunday, May 24, with more family-friendly events than ever before along the parade route
Continue reading »
By Jim Clark
Police officers on routine patrol near the Mystic River development last Thursday took notice of an SUV that was illegally parked in front of a handicapped ramp, unattended with the motor running.

Continue reading »