More than $125K for programs serving more than 445 Somerville households
The Somerville Affordable Housing Trust Fund announced this week it is awarding $125,800 in fiscal 2015 to housing and homeless service providers that, combined, serve more than 445 Somerville households.

Continue reading »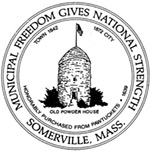 Green Line Extension construction is underway and will involve periodic traffic impacts near the Medford Street Rail Bridge for six to eight months beginning in August. Please join the Massachusetts Department of Transportation and the City of Somerville for a meeting to present the construction schedule for the Rail Bridge area, and all associated traffic diversions. MassDOT will present information followed by a Q&A. 
When/Where:
 Thursday, July 31, at 6 p.m., at the Public Safety Building, 220 Washington Street. For more information please contact the GLX team at 
info@glxinfo.com
 or 855-GLX-INFO (855-459-4636).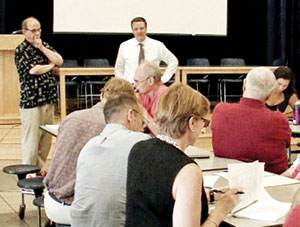 Somerville Neighborhood News is a production of Somerville Community Access Television, made by professional journalists, volunteers and staff. The half-hour news show has as its mission to provide a lively, informative newscast focusing on the events, issues and information impacting Somerville residents. You can watch SNN every Tuesday at 7pm on Ch.3 or online at
www.scatvsomerville.org/SNN
.
Continue reading »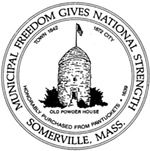 The City of Somerville will be performing network maintenance on Sunday, July 27, 2014 starting at 8 a.m. There may be intermittent issues all day Sunday.
Unavailable Services include the following:
City & School Websites
Police Substations
East Branch Library Phones

Life in the Ville by Jimmy Del Ponte
(The opinions and views expressed in the commentaries of The Somerville Times belong solely to the authors of those commentaries and do not reflect the views or opinions of The Somerville Times, its staff or publishers)
Originally published September 13, 2008.
I love Somerville. Why do I love Somerville? There are tons of reasons. One reason is that I know where most of the streets are. I also know a lot of short cuts, especially during rush hour. Here are a few more reasons:

Continue reading »
By Sanjeev Selvarajah
The average individual only enters a church for a funeral or a wedding. Hard rock Los Angeles band The North encompasses both—out in front, a funeral for family—or alternatively, a hymnal from a wedding of off-kilter famous couples like Helena Bonham Carter and Tim Burton. The origins of the band started in Massachusetts with the group playing local spots in Somerville and other areas. They're returning to Massachusetts on August 1 for an 11 p.m show at Church of Boston.

Continue reading »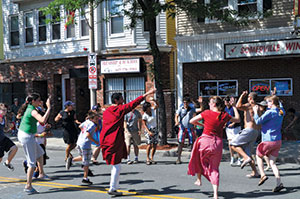 Celebrate the season at "Seize the Summer," the July installment of the city's SomerStreets festival, on Sunday, July 27 from noon to 4 p.m. between Walnut and Lowell Streets on Highland Ave.
SomerStreets is the City of Somerville's take on the internationally renowned Open Streets concept, closing busy city streets to vehicles, and opening them up for cycling, walking, dancing, running, and other modes of activity.

Continue reading »
My letter to Market Basket:
Many Somerville residents rely on Market Basket for fresh, wholesome foods at affordable prices and for jobs that provide strong benefits. As a mayor and as a Market Basket customer, I hope for a swift resolution to Market Basket's current issues, which though internal are directly affecting our community. I also encourage all involved to find a solution in the best interest of all parties: Market Basket's employees, customers, the company and the community.

Continue reading »

By Joseph A. Curtatone
(The opinions and views expressed in the commentaries of The Somerville Times belong solely to the authors of those commentaries and do not reflect the views or opinions of The Somerville Times, its staff or publishers)
The Massachusetts House of Representatives took an important step this month in passing a commonsense gun control bill that fairly addresses all the facets of this critical issue. Massachusetts police chiefs—who already have discretion over licenses to carry firearms—will be able to deny an application for a firearm identification card if the applicant is deemed a safety risk; licensed gun dealers will be able to obtain a CORI check when hiring employees; and the state would create an online portal for private gun sales. Meanwhile, school districts would be required to develop plans to address students' mental health needs and have a school resource officer for security purposes, and the State Police would have a new criminal firearms and trafficking unit.

Continue reading »
— Photos by Claudia Ferro
East Somerville Main Streets' Third Thursday Block Party called "World Groove Dance Party" took place last Thursday at Chuckie Harris Park.

Continue reading »