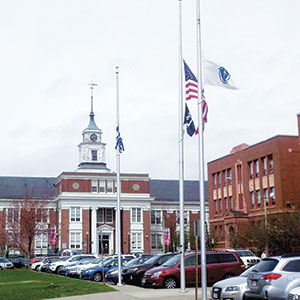 The Veterans' Commission on Monuments, Memorials and Dedications, in cooperation with Mayor Joseph A. Curtatone and the Department of Veterans Services, announce Somerville's first-ever Joint Honor Roll Ceremony, inducting 18 Somerville veterans to the City's Honor Roll. The Ceremony will be held on Sat., May 16 at 11 a.m., in conjunction with national Armed Forces Day.
Continue reading »
Farmers Market brings local produce and community support to Union Square

*
By Haley ED Houseman
This weekend, the Somerville's Union Square Farmers Market opens this weekend, with a wide range of produce and products. Available are local, organic and specialty items: produce and grains, as well as wine, dairy, seafood and poultry.

Continue reading »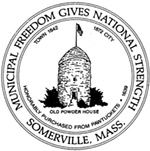 Applications are now available for the second training course of the Somerville Academy for Innovative Leadership (SAIL), the first adaptive leadership training program offered to residents by a U.S. city, Mayor Joseph A. Curtatone announced this week. SAIL is based on The Art and Practice of Public Leadership, an intensive course on adaptive leadership led by leadership expert Dr. Hugh O'Doherty of Harvard University and Cambridge Leadership Associates, which has offered similar training to leading companies, nonprofits and government entities including Google, Microsoft, the U.S. Dept. of Justice and the Knight Foundation. In Somerville, SAIL is offered as a way to encourage and empower more residents to be effective leaders in the community.

By William C. Shelton
(The opinions and views expressed in the commentaries of The Somerville Times belong solely to the authors of those commentaries and do not reflect the views or opinions of The Somerville Times, its staff or publishers)
Six years after her successful campaign to create a national holiday honoring mothers, Anna Jarvis pursued a new goal that would consume the rest of her life—to abolish the holiday.

Continue reading »
By Josie Grove
This Saturday, May 16, hundreds of Somerville musicians will take to their front porches, yards, and driveways for the fifth installment of the Somerville Arts Council's PorchFest. "It's similar to Somerville Open Studios," said Greg Jenkins, director of the Somerville Arts Council. "It's a day of the year for musicians to promote their own work."

Continue reading »
By Donald Norton
The Somerville High School Scholarship Foundation held its annual $10K drawing on Friday, May 8 at the school's culinary arts café.

By Joseph A. Curtatone
(The opinions and views expressed in the commentaries of The Somerville Times belong solely to the authors of those commentaries and do not reflect the views or opinions of The Somerville Times, its staff or publishers)
This past weekend, Teen Empowerment held its annual Youth Peace Conference at Somerville High School. I had the honor and privilege of briefly sharing the stage with teenagers who are not only future leaders of our community—they are already leaders today. Teen Empowerment is one of the great success stories in our city. We faced an epidemic of drug overdoses, juvenile crime and teen suicides a decade ago that we stopped because our youth stood up. They joined with us and changed the way we approached the problems that plagued our community. The lessons we've learned through Teen Empowerment's success are still relevant today, as we face a nationwide opioid abuse epidemic, and as our country grapples with a criminal justice system that features militarized local law enforcement and systemic discrimination. It's only by working together and building relationships that we can beat back drug abuse and have an effective police force that works in cooperation with and is part of the community.

Continue reading »
By Josie Grove
Somerville city officials announced at the May 12 ResiStat meeting held at the Healey School that the city is preparing to take over the site of the Winter Hill Star Market using eminent domain, a process whereby the city forces property owners to sell land at market value. For the Star Market site, this would come at the end of a long planning process, and approval at the city and state level. "We want to put the policies in place that say 'this is what we want as a community,'" said Mayor Joseph Curtatone. "This tool is probably the one that's left in our toolbox to accomplish this."

Continue reading »
By Tom Bannister
At the Somerville Redevelopment Authority's May meeting, Union Square Station Associates (US2), Somerville's master developer partner for Union Square, presented a progress report to the Board.

Continue reading »
Ward 4 Alderman Tony Lafuente has worked very hard pressing the administration over the past few years to get rolling on Winter Hill and apparently his efforts have worked out. On Tuesday night about 100 residents of Ward 4 Winter Hill showed up to hear news on what will be happening along the Winter Hill Central Broadway run.   The owner of the Star Market lot has fought the city over the years with a difference of opinion on what he wants and what the city wants for that area. Apparently, as late as Tuesday a 12.5 million dollar offer was rejected by the owner from a developer. Now the city is starting the process of taking the property as eminent domain, which process will take a little time, but not so much. The entire Winter Hill area is one of the last places for getting development in the area.  
Continue reading »