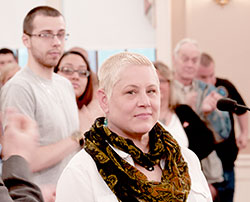 By Jordan Deschenes
Theresa Needham, a veteran of the Iraq and Afghanistan Wars, stood as she was honored at last week's Board of Aldermen meeting. Needham served in both the Air Force and Army. She now serves at George Dilboy Post. "This is an honor. It is an honor to serve my community at Dilboy Post through my years now, and I am grateful to be able to live here," Needham said, smiling and looking around at those in the room.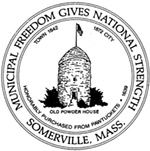 To provide background, answer questions, and take public testimony regarding the proposed fiscal year 2018 Somerville Water and Sewer Rate Charges, an Informational Session with Q&A followed by a Public Hearing was held on Monday, May 15th, at 6:30 p.m. in the Somerville High School Cafeteria, 81 Highland Avenue.
Continue reading »
By Jim Clark
Police officers were dispatched to the TJ Maxx store at Assembly Row last week on reports that a shoplifter exited the store and refused to return the stolen merchandise.
While en route to the store, the officers were informed that the suspect was walking towards Assembly Row. They were able to locate and stop the suspect, later identified as Deanne Fronduto, of Medford, at the intersection of Assembly Row and Artisan Way.
Continue reading »

By Joseph A. Curtatone
(The opinions and views expressed in the commentaries and letters to the Editor of The Somerville Times belong solely to the authors and do not reflect the views or opinions of The Somerville Times, its staff or publishers)
Taking a closer look at this month's notable city data – and interesting numbers.
11,156: That's the total number of calls related to traffic and parking topics that 311 has fielded so far this year. Traffic and parking calls continue to outnumber any other call topic (although we have seen a slight reduction in the number of calls compared to last year), and the calls we receive fall into 48 different traffic and parking categories. Of those, one category accounts for more than 25 percent of calls: obtaining a parking permit.
Continue reading »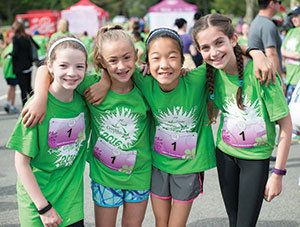 Girls on the Run, an empowerment program for girls in grades 3-8, now has a team at Winter Hill Community School. The Girls on the Run Spring 5k takes place on Saturday, June 3 at Hopkinton High School. For more information contact Program Coordinator, Kristen Bonito at Kristen.bonito@girlsontherun.org.
(The opinions and views expressed in the commentaries and letters to the Editor of The Somerville Times belong solely to the authors and do not reflect the views or opinions of The Somerville Times, its staff or publishers)
To the Honorable Board of Aldermen:
Following review by board members and staff, our organizations would like to share the following points regarding pending matters related to the development of Union Square:
We support the Community Benefits Ordinance and urge its adoption to advance responsible Union Square development and community benefits.
We find the Covenant as written to be a sufficient indication of Union Square Station Associates' commitment to a suitable role for the Union Square Neighborhood Council.
Continue reading »
By Jordan Deschenes
Representatives from Somerville city unions and worker's associations were in attendance at last week's Board of Alderman meeting to petition for a resolution. Both groups asked for the aldermen to add their signatures to the motion, which would prohibit city negotiators from denying unions the ability to include evergreen clauses in public-sector contracts.
Continue reading »
By Joe Ruvido
If measured by thousands of concertgoers enjoying an afternoon drink while seeing live music, Porchfest 2017 was a success.
Though the event, which is held annually on the second Saturday of May, was met with mediocre spring weather, it wasn't stopping revelers like Antonio Escobar of East Somerville from enjoying the festivities. "I liked it a lot," said Escobar, who was attending his first Porchfest with a group of friends. "The concept of walking around Somerville and listening to music and meeting up with my neighbors is nice."
Continue reading »
Alderman At-Large Dennis Sullivan is having his campaign kickoff this Thursday night, May 18, at the Old Magoun's Saloon, 518 Medford Street in Magoun Square. Dennis has been a solid voice on the Board for the residents, asking the right questions all the time. He's the only one that does "meet the Alderman" out in public in various parts of the city, and is very accessible to the community. Step up and join him this Thursday night.
Continue reading »
By Donald Norton
On Tuesday night well over a 100 friends and supporters jammed into Sally O'Brien's Pub on Somerville Avenue for Ward 3 Alderman Bob McWatters' campaign kickoff/fundraiser. At one point the crowd was so large it was out the door and onto the sidewalk, with no room to move around.
Continue reading »