The newly re-named Somerville Media Center Gallery hosts Uncharted, a show of recent paintings, collages and collaborations by Karl Stephan and the student artists of Karl Stephan Studio. The show will hang in the SMC Gallery at 90 Union Square, Somerville, for the month of April. An Artist's Reception will be held Tuesday, April 25 from 5:00 – 7:00 p.m.
Continue reading »
Somerville Girls Basketball celebrated their 2016-2017 season with a banquet at the City Club in Somerville Tuesday night. The event was catered by the Mount Vernon restaurant. T-shirts were handed out to all players, awards were also handed out to the High School teams. Somerville High Girls Varsity had two seniors that celebrated their last year playing at SHS, Miranda Melanson #13 and Kiara Alejandro #21. Long time Pride and High School coach Alicia Querusio announced that she will not be coaching next year. Thanks to all the players and coaches for a job well done!
Continue reading »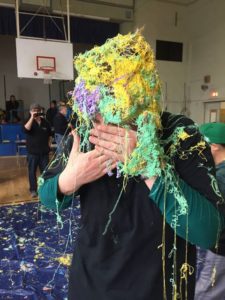 After reading an article about the crisis in Haiti due to Hurricane Mathew, students at Next Wave and Full Circle decided to find a way to lend their support. They were aware that Wadson Michel, one of the NW/FC counselors, had gone to Haiti in November to help with recovery efforts, and decided they wanted to help too. Students researched three aid organizations that had been mentioned in the article and voted on which one to support. Then they got to work planning a Silly String fundraiser where students and staff could pay $3 to spray staff and other students who agreed to be part of the fun.
Continue reading »
By Jim Clark
Somerville police officers were alerted to reports last week of an erratic driver who had nearly struck several vehicles, last seen on Broadway.
Officers soon located the vehicle at the intersection of Broadway and Mt. Vernon St. and approached the driver, Alicia Scanlon, of Peabody, for questioning. According to reports, the officers detected a strong odor of alcohol on her breath.
Continue reading »

By Joseph A. Curtatone
(The opinions and views expressed in the commentaries and letters to the Editor of The Somerville Times belong solely to the authors and do not reflect the views or opinions of The Somerville Times, its staff or publishers)
If the nation's roads, bridges, and other infrastructure were a student in the Somerville Public Schools, you can bet our staff would be working overtime to find a way to intervene and help it do a little better. That's because once again in 2017, our nation's infrastructure barely eked out a passing grade of D+ on the annual American Society of Civil Engineers (ASCE) report card. In this case though, it's the City and the Commonwealth that are springing into action as we methodically tackle our most pressing road, sidewalk, park, water, sewer, building, and other infrastructure needs as we strive to get Somerville ahead of the curve. This week, I'll update you on some of this spring's projects (below), but I also want to offer a little context.
Continue reading »
By Charles Lane
On Friday of last week, Alessandro (Alex) Capobianco, a City of Somerville police officer currently on paid leave, was arraigned in Cambridge District Court and charged with uttering a counterfeit note, possession of a counterfeit note and defrauding an innkeeper under $100 in connection with an alleged attempt to pay a hotel bar tab with counterfeit bills.
Continue reading »