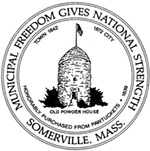 Somerville Youth Arts Coordinator, Jimmy Del Ponte, announces the return of the popular Somerville Rocks! show for 2015.
More than just a community-wide youth talent show, Somerville Rocks! is an opportunity for Somerville youth, ages 12 and older, to polish performance art and talents with twice-weekly rehearsals with performer and musician Jimmy Del Ponte. Whether you're in a band, a solo singer, a comedian, or you have any other talent you want to showcase to your peers, this program is for you! Auditions will be held on Fri., May 1, from 2:45 to 4:30 p.m. in the Somerville High School Band Classroom, located on the first floor of SHS (opposite the school library). The final show will be held on Fri., May 22 in the SHS Auditorium. Participation is free. For more information, contact Jimmy Del Ponte at Jdelponte@somervillema.gov, or 617-625-6600 ext. 2616.

Continue reading »
By Jim Clark
A routine warrant arrest detail turned more difficult than expected for officers last Friday morning, as they were met with extreme resistance by the subject of their assignment, Gilman St. resident Cameron Bourque.

Continue reading »
The Somerville Public Library will host a "Document Freedom" Workshop on Mon., April 27 from 6:30 to 8 p.m. at the Central Library at 79 Highland Ave. Led by Devin Ulibarri and other members of the Open Source/Open Standards Movement, the workshop will provide training on accessing documents electronically.
Continue reading »

By Joseph A. Curtatone
(The opinions and views expressed in the commentaries of The Somerville Times belong solely to the authors of those commentaries and do not reflect the views or opinions of The Somerville Times, its staff or publishers)
The debate around casinos in Massachusetts has moved beyond whether to allow them. The voters have spoken, and agree or disagree—and everyone knows that I disagree—casinos are a reality in the Commonwealth. But the issues we must now resolve as plans are developed are just as urgent and critical to every community in the region. Most importantly, we must make sure that these projects follow the law and that the overseeing agencies take the time, do the work, and make sure that these locations work not only for the cities and towns that will host or be neighbors to the casinos, but for the entire region. Unfortunately, it appears that we are still not examining the potential impacts closely enough, and our environment, our health and our economy will suffer if we do not.

Continue reading »
—Photos by Claudia Ferro
The city's annual Shape Up Somerville/Somerville Recreation Road Race took place on Sunday. Beginning with a one mile children's "Fun Run" at 10:30 a.m., the day's events also included a 5K race and walk at 11 a.m., and a celebration for runners at Casey's Grill. Top male and female finishers in each category received awards.
By Tom Bannister
Although a long winter has kept most teams practicing indoors right up to the start of the season, the Somerville Highlander Varsity Softball team began the season last week dropping their first three games against Cambridge, Everett and Salem.

Continue reading »
By Donald Norton
The Third Annual "Sharing the Vision of St. Jeanne Jugan" dinner was held this past Saturday night at the Little Sisters of the Poor Jeanne Jugan Residence.
By Jim Clark
Police responded to a reported dispute taking place at a Memorial Rd. location last Thursday afternoon.
As the officers sorted out the reported incident underway in the building's courtyard, they began hearing what seemed to be a fight in progress on the other side of the building.
By Sarah Levine
At a historic armory and Somerville landmark, new and innovative young talent is headed to the Center for Arts at the Armory this Friday, April 24 from 7 to 10:30 p.m. With the purpose of putting on an art exhibition that is unlike that found in the usual stuffy art gallery, the collective will focus uniquely on urban art.

Continue reading »