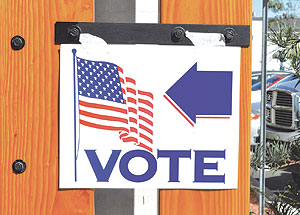 With the Thursday, September 8, state primary quickly approaching, the City of Somerville would like to remind residents that the deadline for registering to vote in that election is Friday, August 19, 2016, at 5 p.m. This is also the deadline for voters wanting to change party affiliation.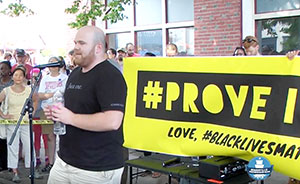 Rallies and the conversation on race and community relations
In August 2015 the City of Somerville hung a Black Lives Matter banner outside City Hall in support of the movement bringing attention to the police killings of several young black men across the country.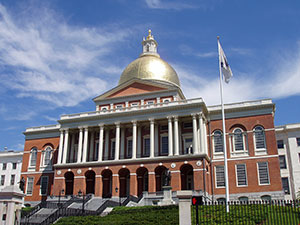 This week, State Representative Christine P. Barber and State Senator Patricia Jehlen celebrate the final passage and signing of H.4303, An Act establishing the Somerville municipal job creation and retention trust. This law, approved by the Somerville Board of Alderman in 2013 but requiring state approval, allows the city of Somerville to create a jobs trust fund and establish a fee, to be paid by developers of new projects in the city, for job training, placement and retention.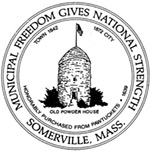 Current severe drought conditions have left many of our street trees in dire need of water. While our Department of Public Works crews are working diligently to care for the needs of our parks, open spaces, and trees, we need the community's help to provide water to our street trees during these extreme conditions. We ask residents, where possible, to consider assisting us in these efforts by watering any trees in your area, particularly those that look dry. The best way to water trees is via a slow trickle over a longer period of time rather than a full stream of water over a short period. Sprinklers, or several-gallon buckets with a small hole in the bottom are just a few suggested ways to water these trees. Trees should ideally be watered two or three times per week rather than every day.

By William C. Shelton
(The opinions and views expressed in the commentaries and letters to the Editor of The Somerville Times belong solely to the authors and do not reflect the views or opinions of The Somerville Times, its staff or publishers)
From time to time certain ideologues insist in tones of moral superiority that the U.S. was founded as a Christian nation. The historical evidence clearly contradicts this.

Continue reading »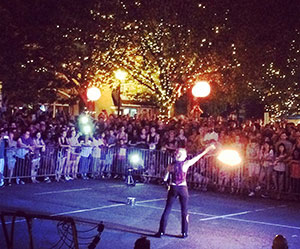 To celebrate Union Square's sizzling food landscape, the latest ArtsUnion event, Ignite, an evening of international eats, fire throwers, roving entertainment and a raucous celebration of global culture will be presented on Saturday, August 13, at 6:00 p.m. in Union Square.

Continue reading »
By Jim Clark
The Somerville Police Drug Control Unit set up a routine surveillance was in the area of the Otis Street Playground last Friday in response to citizen complaints of suspected drug activities taking place in the area.

Continue reading »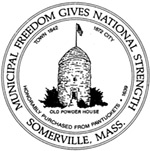 Along with other opportunities to stay cool at Somerville cooling centers and air-conditioned libraries, as well as pools and park water features, the City invites residents (and other miserably hot folks) to come to regularly scheduled public skating at our air-conditioned Veterans Memorial Rink (Mon.-Fri. and Sunday 12-2 p.m.).

Continue reading »
Updated August 10, 2016
The Massachusetts Department of Public Health is reporting that mosquitoes carrying West Nile Virus, a potentially serious disease spread by mosquito bites, have been found in Somerville, as well as Arlington, Boston, Brookline, Chelsea, Newton, and Waltham this season. Somerville is considered to be at moderate risk for West Nile Virus. The forecasted conditions (rain and continued warmth) are conducive to further spread of the virus across the area. Ongoing mosquito trapping in the area will monitor for evidence of additional risk. August and September are usually the periods of greatest West Nile Virus activity in Massachusetts.

Continue reading »

By Mayor Joseph A. Curtatone
(The opinions and views expressed in the commentaries and letters to the Editor of The Somerville Times belong solely to the authors and do not reflect the views or opinions of The Somerville Times, its staff or publishers)
It's no secret I'm a fan of summertime and getting outside to have some fun. I spend a lot of time talking about making Somerville a great place to play. Yet there's something just as important to do during the summer as playing: reading.

Continue reading »